Intermediary only
Simpler bridging for every project
Online calculators and applications gets you instant quotes and Heads of Terms in minutes
Financing up to

£30 million

Term length up to

18 months
Product guide
All about our bridging products
Rates from 0.89% per month
Refurbishment Bridge via the portal up to 73% net LTV
Regulated and Unregulated
Residential, semi-commercial, commercial and land
Terms up to 18 months
Flexible minimum interest periods
1st charge (Unregulated and Regulated) or 2nd charge (Regulated Bridge only)
Serviced, retained and rolled interest
Title insurance
Free legals and valuations to refinance your loan to BTL (standard properties only)
Refurbishment GDV up to 70% LTGDV and max 3 drawdowns not via the portal
For more information, view our product guide.
| | | |
| --- | --- | --- |
| LTV (net) | 50% | 55% |
| Rate 1st | 0.94% | 0.94% |
| Rate 1st and 2nd | 0.99% | 1.04% |
| | | | | | |
| --- | --- | --- | --- | --- | --- |
| LTV | 50% | 60% | 65% | 70% | 75% |
| Rate | 0.89% | 0.89% | 0.89% | 0.89% | 0.94% |
| | | | | |
| --- | --- | --- | --- | --- |
| LTV | 50% | 60% | 65% | 70% |
| Rate | 1.05% | 1.05% | 1.05% | 1.10% |
| | | | | | | | |
| --- | --- | --- | --- | --- | --- | --- | --- |
| LTV | 50% | 55% | 60% | 65% | 70% | 75% | 80% |
| Rate | 0.89% | 0.89% | 0.89% | 0.89% | 0.89% | 0.94% | 1.09% |
| | | |
| --- | --- | --- |
| LTGDV | 65% | 70% |
| Rate | 1.05% | 1.09% |
If you wish to discuss your deal before applying, please contact:
0800 130 3388
.
For the Refurbishment GDV product please contact the team as this is not available in the portal:
[email protected]
.
Purchase transactions only.
Properties must be single occupancy standard residential properties.
Minimum property value: £100,000
Maximum Property Value (London): £750,000
Maximum Property Value (Outside London): £450,000
Confidence Level: Rightmove A or B
Maximum LTV Unregulated Bridging: 70% Gross
Maximum LTV Regulated Bridging: 55% Net (Houses), 55% Net (Flats)
Minimum age: 21. Maximum age: 75 (at end of term).
Maximum number of applicants: 4
For regulated bridging. Maximum number of applicants: 2
Borrower Experience: Where minor structural works, conversions, building regulation approvals or planning permission including HMO conversions are requested we will require x1 previous project and will be subject to underwriter discretion.
For the Refurbishment GDV product: Structural work, conversions, or ground-up building work will require minimum of x1 previous project and will be subject to underwriter discretion. Maximum 3 drawdowns to fund refurbishment work. Paid in arrears upon satisfactory evidence.
Deposit: On all purchase cases the source of deposit must be disclosed. LendInvest may request that evidence of the deposit is produced.
Servicing: Underwriters must be satisfied that the borrower has the means to service the monthly interest (where interest is not retained). Evidence may be requested.
Exit: Applicants must be able to demonstrate a realistic exit strategy.
For regulated bridging. Exit can be any of the following: Sale of current property. Inheritance where a grant of probate has been issued. Remortgage provided evidence of mortgage offer is provided. Where multiple securities are used remortgage can be used in combination with the sale of another security property. No income or affordability proof is required where the exit is sale of the security property. Wherever a refinance forms part of the agreed repayment strategy then evidence of income will be requested.
We do not offer consumer buy-to-let mortgages.
Residential status: Resident in the UK for 36 months or more and must currently be a UK tax resident. If not, please get in touch. Foreign nationals and expats may be allowed subject to underwriter approval.
For regulated bridging. Must be a UK resident and have been resident in the UK for the last 3 years, or have a 3 year UK residential history and a permanent right to reside in the UK.
Gifted deposits for individuals are acceptable excluding First Time Landlords (FTL). A FTL will require a minimum 10% contribution from personal funds. Gifted deposits can only be accepted from an immediate relative, full details of whom must be disclosed. The identification of the person(s) gifting the deposit must be satisfactorily established
Appropriate deed of gift indemnity insurance will be required, Only on-shore funds may be used. Inter-family sales: A 10% personal contribution is required.
Criminal convictions: Not permitted unless relating to motoring offences, or at the underwriter's discretion.
Many status profiles considered for unregulated bridging, missed payments and credit blips can be considered if accompanied by evidence and an explanation that the issue was only temporary, please refer to the underwriter.
For regulated bridging the following credit profile is applied:
- No bankruptcy/IVA in the last 6 years.
- Defaults allowed: none in the past year, 1 in the last 3 years.
- Missed mortgage/secured payments allowed: none in past year. 1 in the past 3 years.
- Unsecured arrears allowed: 2 in past 3 years. County Court judgments (CCJs) allowed: 1 in the past 3 years up to a maximum value of £500 which must be satisfied prior to completion.
Personal guarantees: UK companies: full personal guarantee required from all directors and shareholders holding more than 25% of shares in the company. Non-UK companies: full personal guarantees required from the principal or beneficiary of the company.
Gifted deposits for Limited Companies. Acceptable without a customer contribution when the following are in place and verified: Directors loan, Intercompany loans, Business savings
Bankruptcy or liquidation: No bankruptcy or winding up petition in the last six years.
Unregulated Bridging:
- Residential investment property.
- Broad range of commercial property types will be considered on merit.
- Land with or without planning permission to build.
HMOs: Properties being refinanced that are operating as an HMO must have all appropriate licences in place at the time of application. Properties being purchased with an intention to use as an HMO should have licences in place as soon as practical after completion.
Regulated Bridging:
Residential properties only. We will accept a max of two securities for the loan. We will consider investment properties as a second security.
1st charge only if only one security is provided. A combination of 1st and 1st charge, or 1st and 2nd charge is allowed when multiple securities are being provided. A 1st charge is always required when a property being purchased is being provided as security.
Strictly cosmetic work is allowed to the property during the term of our loan; installing new kitchen and bathroom, replacing windows and doors, replastering, installing central heating, redecoration, damp repairs and new flooring. Refurbishment work that requires either building regulations approval or planning permission is not allowed.
Refurbishment GDV:
Residential (including HMO up to 6 bedrooms)
Light Refurbishment: Decorating, replacement of kitchens, bathrooms, electrical rewiring, plumbing, windows & doors. Works to improve the EPC rating of the property.
Heavy Refurbishment: Structural works and conversions, involving building regulations approval or planning permission including HMO conversions, extensions and ground up building work.
Depending upon scale or works, ranging from inspection by a LendInvest Employee or Building Surveyor, to a formally appointed external monitoring surveyor. Underwriter discretion.
USING OUR PORTAL
Support at every step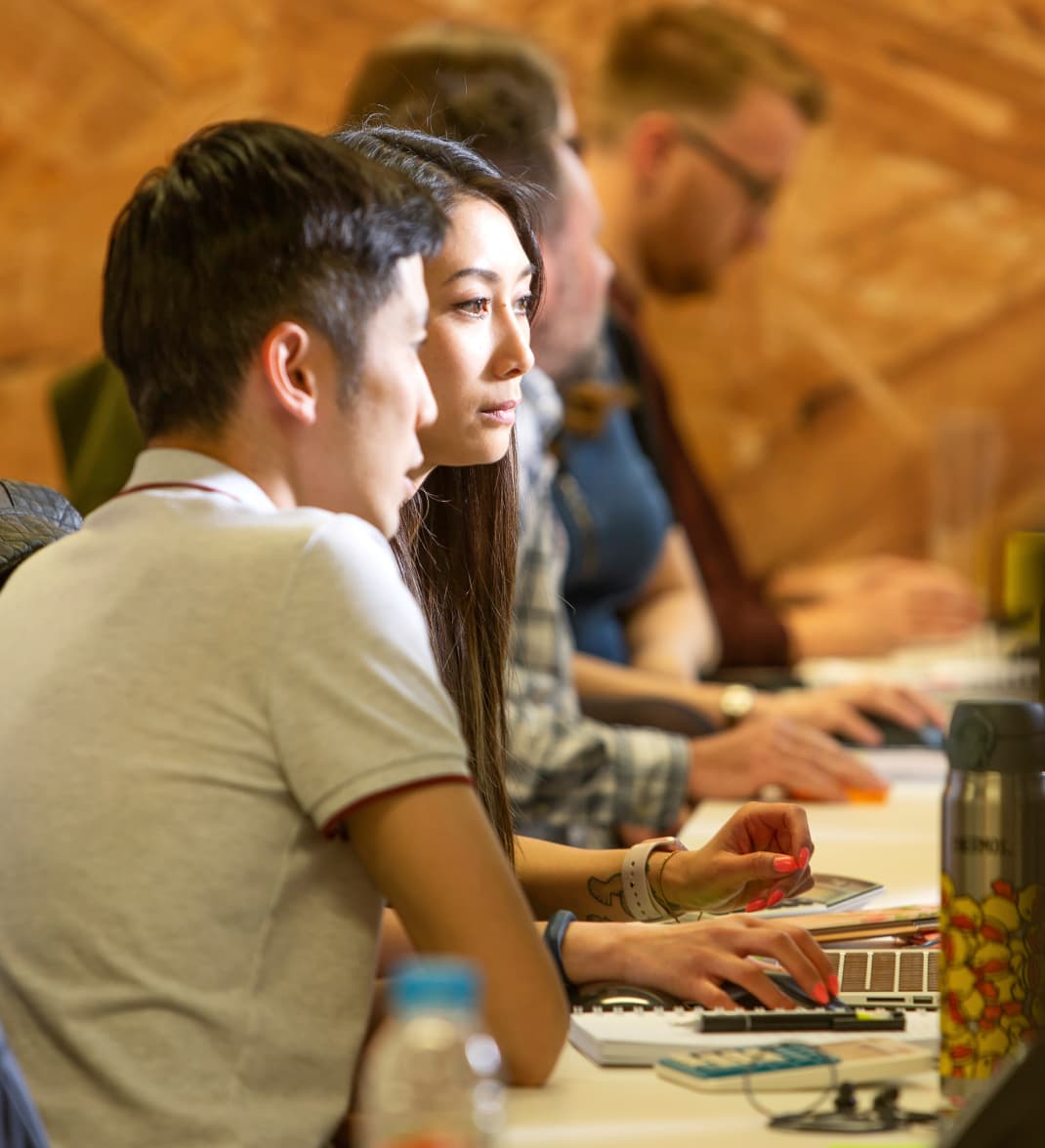 Enquiries reviewed in minutes

Our BDMs will review your enquiry quickly before you proceed on with your application.

Direct access to underwriters

Mandated underwriters are available throughout the deal to support you and answer your questions.

Track your progress

You can manage and track the latest updates for every single one of your deals inside the portal.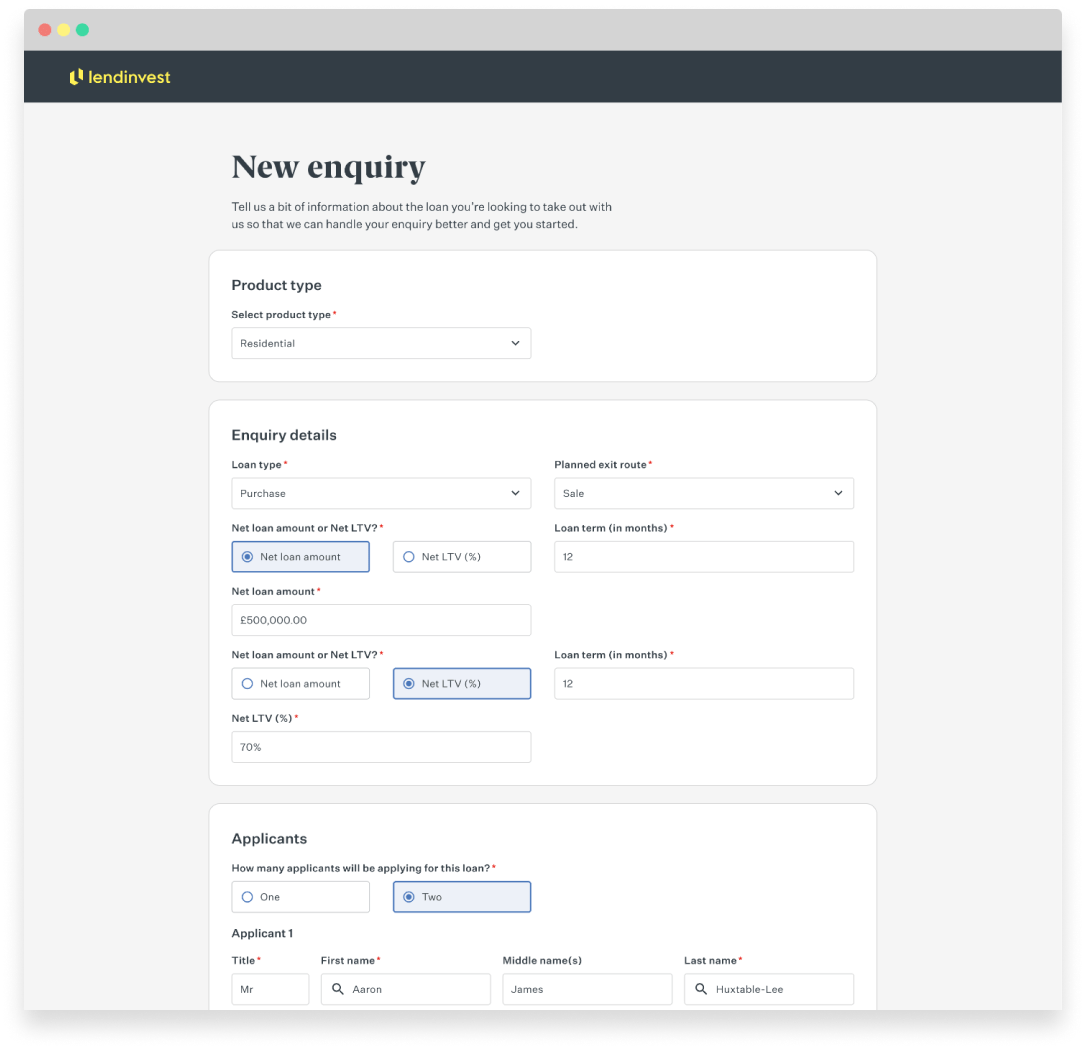 Submitting an enquiry in minutes
When you're registered for the portal you can submit the easiest bridging enquiry on the market:
Click new enquiry
Choose between our Regulated Bridge, Auction, Bridge-to-Let, Development Exit, Residential Bridging, Commercial Bridging and Refurbishment products
Fill out 6 basic enquiry details
Find your security property in our address finder and share the value
Tell us about your deal
Upload your documents
Submit your enquiry
Simple applications built around you
From start to finish, every one of your bridging deals can be managed within the portal. For Unregulated Bridging, you get added benefit of:
E-signatures for your clients helps speed up the process
Transition from enquiry to completed application in minutes
10 clicks from start to Heads of Terms
"LendInvest is a no-fuss specialist lender with great people to deal with and they lend in all scenarios."
CASE STUDIES
Experience that speaks for itself
Take a closer look at the types of deals you can deliver your clients
Leeds

Loan amount

£5,200,000

LTV

63%

Term

12 months

Cambridge

Loan amount

£3,200,000

LTV

63%

Term

12 months

High Wycombe

Loan amount

£1,050,000

LTV

70%

Term

12 months
How to get in touch
Find your local BDM
Your dedicated, local BDM is ready to support you and your clients with every type of deal. Get in touch with them and get to work on your next deal.

JavaScript must be enabled to use the BDM finder.
Useful tools
Download guides and reference documents