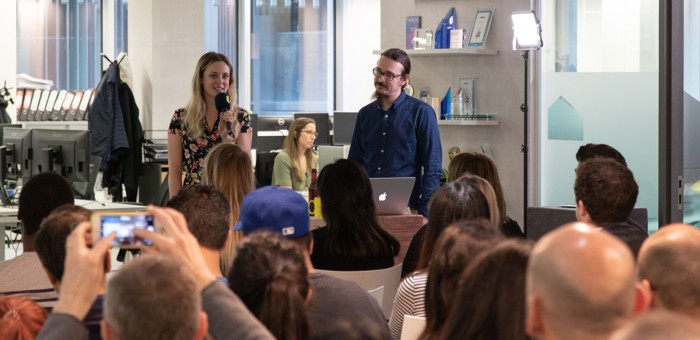 December 20, 2019
2019 in Tech blogs
We're seriously proud of our tech team here at LendInvest, and of the work they do day-to-day to bring to market products that effectively disrupt the traditional mortgage process in a way that works for both our borrowers, and our investors.
That's why we're always keen to spotlight the projects they're working on and the way they work as a team to make it all happen. Here's a quick look back at a couple of our favourite topics from the team throughout 2019.
Throughout our careers we are encouraged to work with others, seek feedback and share our ideas. But how much time is spent on improving how we actually work together?
Earlier this year our Product Designer, Alice Williams, and Front-End Engineer, Marek Lenik hosted a Design Lab Meet up at LendInvest HQ where they discussed collaboration as a broader concept, and how it impacts the nature of our projects internally.
Microservices: What they are, why we use them and why they're important
Processing and delivering loans at speed takes a responsive, dynamic infrastructure; especially for a business that's expanding as rapidly as we are at LendInvest. Microservices give us the ability to scale with amazing efficiency: our product team break down why we take this approach to software development.
Using technology to disrupt the property market
When carving out a niche in the fast-paced and competitive world of FinTech, there are several approaches you can take. Writing for PwC's blog this year, our CEO, Christian Faes, discussed the tough road to disrupting in property.
Product management: you are what you read.
At LendInvest, we're fortunate to have amazing product managers with a deep understanding of what it takes to be great in their profession. They all agree on the importance of continual learning and inspiration. We asked each of our product managers to share some of the books and podcasts that have influenced their thinking.
Why brokers should embrace Open Banking
We know that brokers and clients want the most seamless process possible, where you aren't constantly quizzed and prodded for more information. Open Banking is a tremendous first step towards making that a reality, but it will only work if people embrace it.
When growing fast, it helps to keep everyone agile
By now, you're probably familiar with the term Agile. Though misconceptions abound, it is simply a set of principles. Nothing more. It's not a methodology or a framework. But these principles, when used effectively, are powerful and transformative.
The creative life of a QA engineer
One word you wouldn't naturally associate with quality assurance (QA) engineering is creativity; however it's this particular aspect of the role that makes the function so important to a business. Earlier this year we caught up with our Lead QA Engineer, Meenakshi Choudhary to find out why.
The 'Three Amigos approach' to product delivery
The aim of the Three Amigos is to create a common understanding of a feature, a piece of work, and deliverable, and to settle on a way to tackle it. The three perspectives give context to what we discuss, what we want to build, why and for whom.