November 10, 2015
Case Study: Capital Money Solutions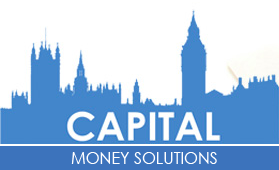 Why should intermediaries work with LendInvest? Ask Charles Smith. We caught up with the founder of commercial finance brokerage, Capital Money Solutions, to discuss working with LendInvest, the bridging industry and his history in the sector.
Started in 2006, Capital Money Solutions (CMS) is a commercial finance brokerage. In the the finance broking business since 1984, Charles has run numerous businesses including a training company that trained 850 commercial brokers between 1999 and 2006. CMS provides a range of financial products to all types of business.
How has bridging finance changed in recent years?
CS: Since 2007 and the absolute collapse of high street banks and many centralised lenders, bridging has become more mainstream. In the last five years bridging has become a form of finance that cannot be ignored. It's used by all of our clients to support their conventional high street and regular funding facilities.
When do you advise your clients to consider bridging finance?
CS: All of our clients are commercial customers. We advise bridging finance for speed and security, to complete deals and to make great financial returns.
What do you look for in a bridging lender?
CS: We look for honesty, reliability, professionalism and transparent terms.
How have you found working with LendInvest?
CS: I have found it extremely satisfying dealing with a lender who reacts to its brokers and works to get deals done. In many cases with my clients by taking a professional view and assisting to advise the most appropriate way to get the result we all need quickly. I respect and value the relationship I have with the team at LendInvest.
Tell us about a recent case you referred to LendInvest?
CS: We had a deal for a disused car park development site in Suffolk very recently. This was being purchased by a regular client of ours. With lightening speed and efficiency and by pulling out all the stops, Lendinvest managed to get this completed and paid out within a working week. It was just incredible and an amazing reaction to what seemed an impossible task. They made Capital Shine as a broker in the industry. It really was a great completion.
To find out more about working with LendInvest, head to the the LendInvest Intermediary page.