November 30, 2016
Top 25 PropTech influencers in 2016
All the votes are in! And the PropTech Powerlist, a list of the top 25 influencers in PropTech, is here. After a period of voting and nominations and much consideration the final list was drawn up based on the following criteria:
Number of votes

Level of public contribution to the PropTech space

Time spent working in or commenting on PropTech

Level of engagement in debate and opinion around the sector

Ambitions for the future

Social media following
We announced the Powerlist today at our fourth PropTech Meet-up aimed at providing a space for people working at the intersection of property and technology to meet, share knowledge, ideas and hopefully contact details.
Get to know our
PropTech Influencers
Here's our list of the 25 people on a mission to promote or pioneer new uses of technology to refine, improve or reinvent the services we rely on in the property industry.  
James Dearsley – "the original PropTech blogger"

James is perhaps PropTech's most ubiquitous voice. In his heavily subscribed Sunday PropTech Review, he provides insight into the latest PropTech activity and commentary. He's been credited by his readers as "the original PropTech blogger", a "consistent news source, speaker and supporter of all things proptech" with an "outstanding knowledge of the industry."
Follow James @jamesdearsley
Sign up to James' Sunday PropTech Review
here
Dan Hughes – RICS news director & PropTech lead

At RICS Dan leads the product management and development of data and information products globally. He spends much of his time addressing the market impact of data and technology across the built environment. He is a dedicated purveyor of PropTech insights through RICS news and his own Twitter feed, helping keep people plugged into PropTech both offline and online.
Follow Dan @PropertyDanH
Henry Pryor – "BBC's favourite property commentator"

A property pundit, credited as being "the BBC's favourite property commentator" and buying agent, Henry Pryor is all over the property market – including the burgeoning sector of PropTech. A PropTech entrepreneur before the term was invented, his Twitter stream is full of best practice and opinion, which sparks debate around the evolution of tech in the property market.
Follow Henry @HenryPryor
Nick Katz FRICS – acasa Co-founder & CEO

Nick has worked in the US and the UK for nearly a decade in just about every segment of the real estate industry possible. In 2013 he joined VC backed Honest Buildings as Head of Europe before launching acasa, a platform for housemates to manage and split all of their household expenditure, from rent and utilities, to groceries and nights out. He shares this enthusiasm for PropTech, the idea of leveraging technology to help people live better at home, blogging and tweeting online.
Follow Nick @NicholasKatz
Dominic Wilson – Pi Labs Managing Partner

Under Wilson's lead PiLabs identifies and invests in the best start-ups innovating in the property industry. It aims to help PropTech entrepreneurs by providing them with a framework of support as well as access to the best in the property, tech and venture capital industries. With 19 investments to date, it's looking to develop the Airbnbs and Zooplas of the next 10 years. Dominic also writes for the property trades and is a frequent speaker and contributor at events.
Follow Dominic @Dom7Wilson
Eddie Holmes- PropTech specialist

– PropTech consultant Eddie Holmes was named on a Sunday Times list of 100 successful business people nurturing the next generation of entrepreneurs.

He advised on the deal whereby Zoopla, Countrywide and Connells have all backed repairs reporting firm Fixflo, where he now sits on the board. He also provides a useful stream of audio content on real estate tech via The

PropTech Podcast

, which he co-presents with James Dearsley (#1).
Follow Eddie @eddie_holmes
Juliette Morgan – PropTech intrapreneur

Juliette is highly regarded as a real estate expert in the London tech sector. She works as Partner in the Global Technology Practice at Cushman & Wakefield and previously worked as Head of Property for the Government's Tech City UK initiative.
Follow Juliette @Juliettemorgan
Christian Faes – LendInvest Co-founder & CEO

After grappling with the inefficiencies of the mortgage process as a lawyer, Christian partnered up with chartered surveyor Ian Thomas and founded LendInvest. LendInvest makes it simpler to get the finance to buy, build or renovate property and easier to invest in the property market. He set up The PropTech Meet-Up as a meeting point for early stage founders to exchange knowledge and contact details. He also blogs and tweets about the sector.
Follow Christian @ChristianFaes
Tom Bloxham – Modular pioneer

Tom Bloxham is known as the Robin Hood of property development, with a penchant for regeneration and good design. Take one look at his Twitter feed or recent BBC News appearance and construction technology dominates. HoUSe, is the modular housing project he's pioneering in Manchester under his development company Urban Splash. For Bloxham this construction tech is the future, with the promise to help solve our housing crisis.
Follow Tom @TomBloxhamMBE
Marc Vlessing – Pocket Living CEO

Vlessing is a pioneer of modular housing. He is a frequent spokesperson and advocate for modular construction tech, which has been ascribed the role of accelerating the delivery of housing to solve our monumental deficit. CEO of affordable housing developer Pocket Living, he has pledged that 25% of Pocket Living homes will be delivered through modular construction.
Follow Marc @marcvlessing
Ishaan Malhi – Trussle founder

With an Economics degree and two years in the mortgages team at Merrill Lynch under his belt, Malhi thought it'd be plain sailing getting a mortgage. But he ended up without a mortgage and with three simple unanswered questions: How much could he afford? Which product was best for him? When should he switch to avoid getting ripped off? So he founded Trussle, an online mortgage broker. His Twitter feed and Medium posts provide insightful content on the activities in the PropTech industry.
Follow Ishan @Ishaan_trussle
Alex Chesterman – Zoopla founder

After selling LoveFilm, Chesterman founded Zoopla. It was born of Chesterman's frustration house-hunting in 2007, when he spent hours trawling through spreadsheets, documenting commute time, local crime and school performance. His success, according to the FT, in both his ventures came from "a series of acquisitions that ramped up revenue growth quickly, and canny fundraising — he secured early venture capital and brought in the big guns later". An inspiration for many PropTech entrepreneurs.
Follow Zoopla @zoopla
Antony Slumbers- Ubiquitous commentator

Anthony has over 20 years experience in the world of property. He is an influencer on Twitter with over 3.5k followers and he also blogs about property, technology and PropTech.
Follow Anthony @antonyslumbers
Eyal Malinger – Investment catalyst

Eyal is the Investment Director at Beringea and leads investments in the PropTech sector. Previously he worked as Corporate Development Director at Countrywide PLC, leading Countrywide's investments in Pi Labs and continues to mentor at Pi Labs.
Follow Beringea @Beringea
Calum Brannan-  No Agent App founder

Calum is the Founder and CEO of No Agent App. It is a PropTech startup with a vision to change the way landlords rent and manage their property. He is also the Co-founder of CrowdControlHQ (leading social media tool) and Founder of SO ME Academy (social media training provider).
Follow Calum @CalumBrannan
Thijs van der Burgt – Office App founder

Thijs is the Founder and CEO of Office App, a tenant engagement app for office buildings.

Office App aims to revolutionise the way people perceive office buildings by enabling people to make the most out of their time in offices.

He is a serial entrepreneur and founded two other ventures;

Sproudly and Frigg before Office App.
Follow Thijs @thijsvdburgt84
Daniel Hegarty-  Habito CEO

Daniel is the founder and CEO of Habito. Following the fraught experience of  securing a mortgage for his home, he realised the industry needed innovation. He launched Habito last year aiming to make the mortgage application process simple by cutting out the paperwork.  
Follow Daniel @dh_habito
Hussain Al Hilli – Byoot Capital co-founder

Hussain is co-founder and COO at Byoot Capital. It is an online platform for investing and trading shares in residential properties globally. He studied Chinese and Economics at The School of Oriental and African Studies (SOAS). At University, he ran a £3m property fund and went onto set up Byoot with Marwan Field, an ex-investment banker.
Follow Hussain @hussainalhilli
Wouter Truffino – Holland PropTech co-founder

Wouter is one of the Holland PropTech founders. Holland PropTech brings startups and corporates together within the real estate business. Wouter helps startups to gain visibility and to raise new business. He has been a leading voice, transporting much of the UK PropTech buzz to the Netherlands.
Follow Wouter @WouterTruffino
Rayhan Rafiq Omar – PropTech entrepreneur & reporter:

Rayhan is the founder of Unmortgage, a startup offering a completely new way for people to get on the housing ladder without needing to take out a mortgage. Rayhan is vocal about his love for PropTech and shares his opinion on Medium and Twitter and as PropTech editor for

Property Industry Eye

. Oh, and he's also an investor on the LendInvest platform – you can read more about his experience with LendInvest

here

.  
Follow Rayhan @Ray5D
Ciaran Bird – CBRE's PropTech backer :

Ciaran is the Managing Director of CBRE, the world's largest commercial real estate services company. He set up a strategic partnership with PiLabs to be at the forefront of PropTech and to identify emerging technologies for the benefit of CBRE clients and the property sector as a whole.
Follow CBRE @CBRE_UK
Michael Marciano – Shared Property Data Founder:

Michael is the Founder & CEO at Shared Property Data. He remains at the forefront of PropTech by writing thought pieces and speaking at industry events. In addition, he also holds panel discussions every month with PropTech startups and industry influencers. Prior to founding Shared Property Data, Michael worked as a Chartered Surveyor.
Follow Shared Property Data @my_spd
Savannah de Savary – Rising PropTech star :

Savannah is a rising star in PropTech. She founded Industry Hub, an online platform and professional community that connects real estate developers with consultants. While

working as a developer at a NYC-based development firm, she discovered the absence of a trusted shortcut for connecting to the right professionals.
Follow Savannah @SavaryDe
Cem Savas – Plentific co-founder:

Cem along with Emre Kazan, founded Plentific. It is a startup helping people to find the perfect professional or local tradesmen for a home service. Cem set up Plentific after realising how difficult it was to find reliable professionals and trusted home improvement tradesmen. He is a former investment banker.
Follow Plentific @Plentific
Gary Chimwa – PropTech bridge-builder:

Gary is the Founder & Events Director of Metropolitan Events. He organises  

Future: Property Tech

and organises events and hackathons linking PropTech and the traditional property sector.
Follow Future: Property Tech @futureproperty
Here is a graphical representation of the influencers list: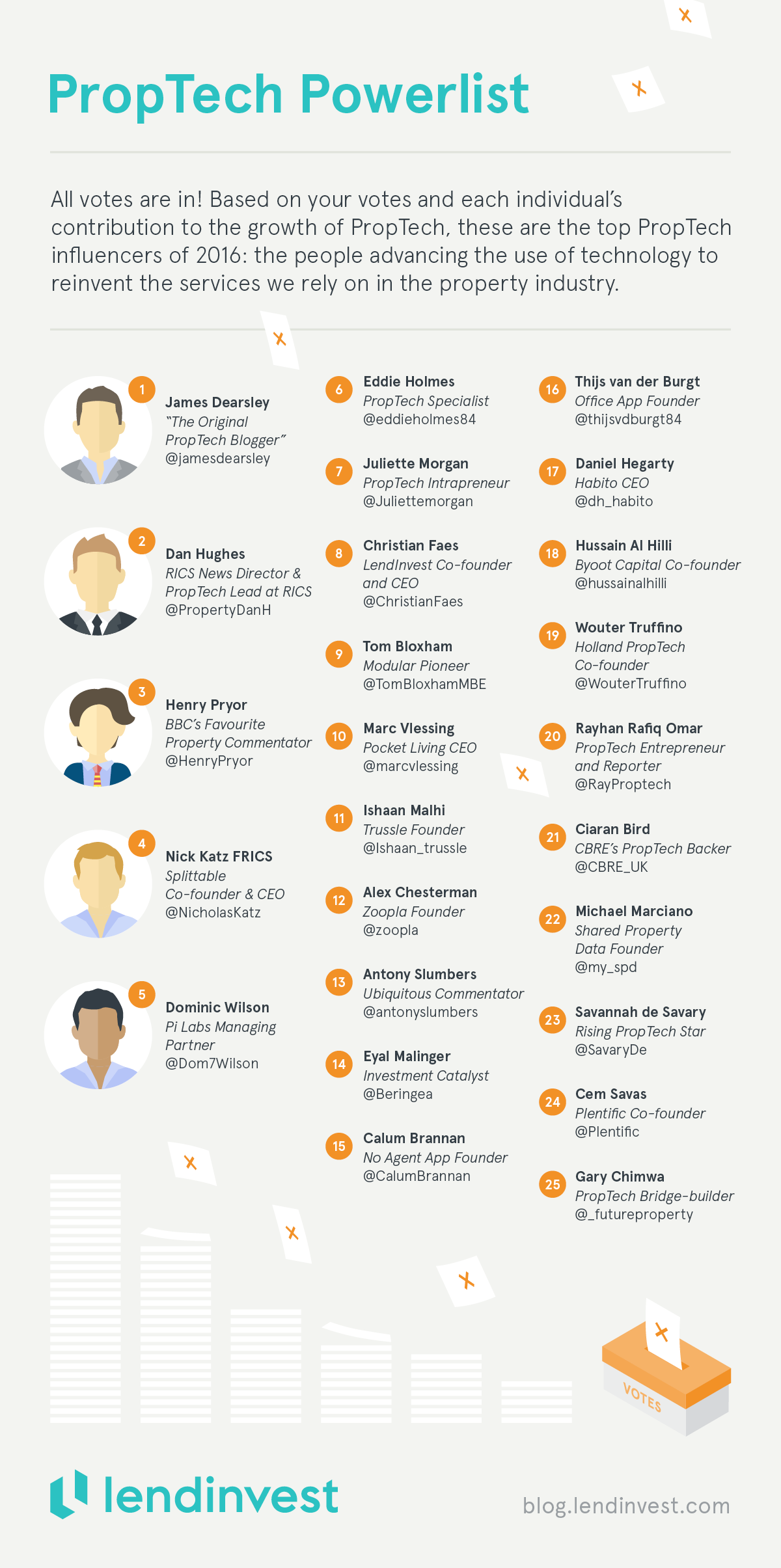 Posted by Felix Habgood