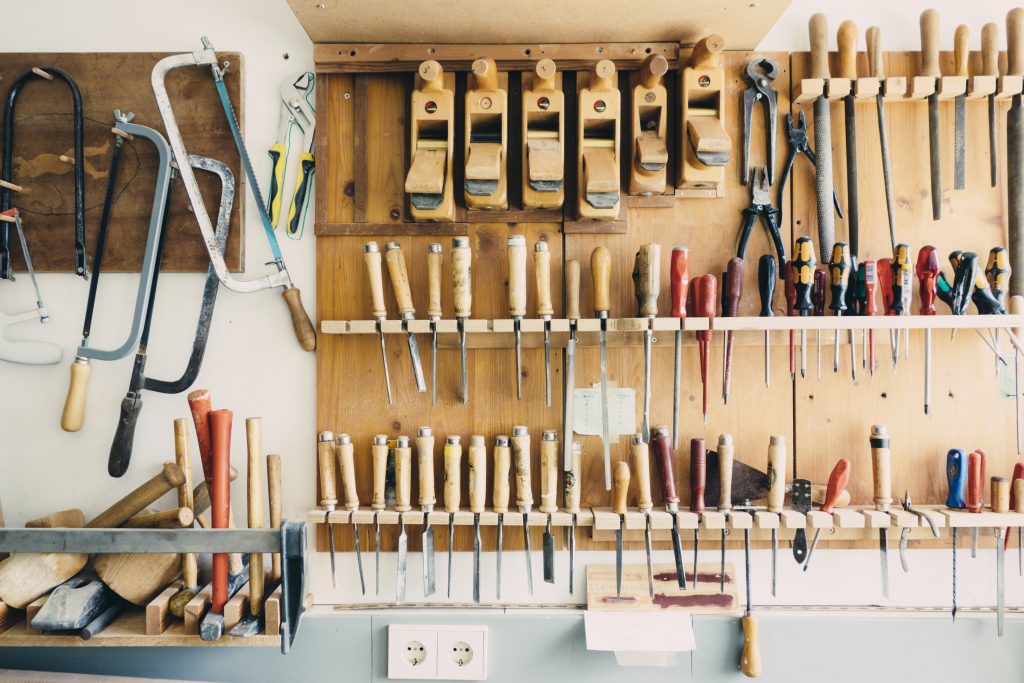 September 14, 2016
Learn what it takes to be a successful property developer at the LendInvest Academy
Accessing finance and purchasing land is notoriously tough for developers who are just starting out. But in our experience, lending since 2008, it's not just access to finance and land that's hard to find, but access to the right skill set.
One in four people who apply for LendInvest development finance can't secure funding because they lack the necessary knowledge. Their proposed project may be sound, but their skillset and experience often aren't sufficient.
So how do you make sure you've got the right skills to access finance and execute a successful development project? Where can you learn to avoid planning pitfalls, structure an effective team and choose the best construction contract? The LendInvest Property Development Academy will give you an intensive run-through of property development's key knowledge areas in two days.
Learn from property experts and academics from the University of Reading
The Academy, established in collaboration with academics from the University of Reading, provides intensive training to aspiring property developers. It's a close collaboration between LendInvest and an institution ranked as one of the leading property development schools in the country. As a result the syllabus has been developed with a focus on quality and relevance, evolving to fit a changing landscape.
What's on the agenda?
On a two-day intensive programme, with limited places for 20-25 'students', you'll take seven hands-on, practical modules covering the full development project: from land valuation and acquisition, through to planning permission, supplier contracts, cost management and final sale.
Sessions are led by experienced advisers (e.g. solicitors, planners, valuers and surveyors) who know what it takes to get small-scale property developments delivered on time and on budget. On top of education, this network of relevant contacts from your local area will become a vital resource for you to call upon in the future.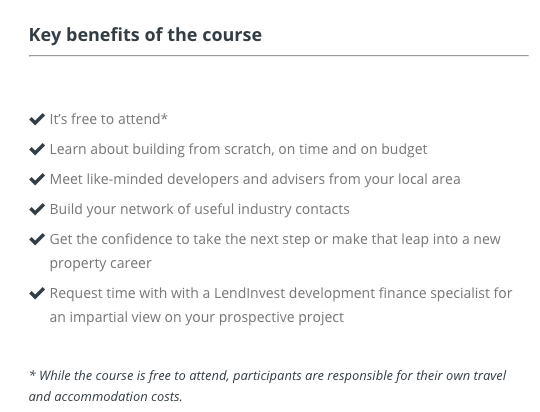 View the agenda here.
Will I receive support after the course?
The aim of the Academy is to support you into a property career through an intensive course. But it doesn't stop at the end of two days. You'll also benefit from the ongoing support of useful contacts and practical resources and guides. The Academy Knowledge Centre is a free-to-join online portal that is updated regularly with the latest background reading, tutorials, videos and guides for any developer that needs help at any stage of their building project. The content is chosen and curated by LendInvest and selected industry partners.
As well as the knowledge you can expect to gain, there's the enviable network effect to consider. Developers can't afford to work in silos. The best developers build networks of advisers, contractors and suppliers around them that they know they can trust and rely on to get the job done. The Academy course will help you make the contacts you need.
How much is it?
As a non-profit initiative, devised by LendInvest's team of development finance specialists, the course is free. While you'll be screened for suitability, (with preference given to those with proven property experience), successful candidates attend at no cost.
The reality is we need 300,000 new homes every year to meet demand. Only half this number, 170,000, were completed in 2015. The skills gap is holding back entrepreneurial potential to address the housing deficit. And it's time to close it.
When and where does it start?
You can find announcements about new course dates and locations here.
Find out more
Visit the Academy website to find out more.