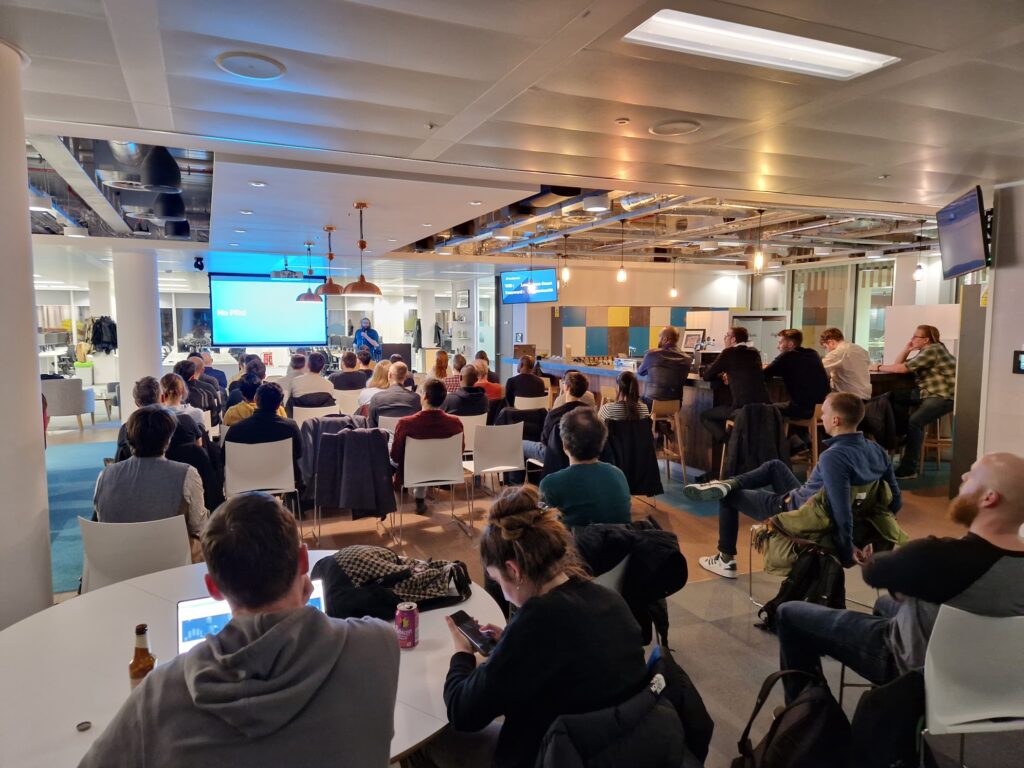 April 13, 2023
PHP London Meetup Retrospective
by Chris Levy, Senior Software Engineer
At LendInvest we like to keep up with the latest technologies. A great way to do this is to attend conferences and meetups with tech user groups. In fact, we host multiple Tech (and non-Tech) meetups in our offices in London and Glasgow.
One such meetup series is PHP London (http://phplondon.org/) which is usually held on the first Thursday of every month, and hosted in our fabulous London Office in Fitzrovia.
PHP London – A brief history
The PHP London meetup is one of the oldest and most well-established PHP user groups. The group's first meetup on record was held in January 2006, and it quickly gained a following of PHP developers and enthusiasts who were eager to network, learn new skills, and share their knowledge with others in the community.
The organisers of the PHP London meetup are also involved in the organisation of larger conferences like PHP UK Conference (https://www.phpconference.co.uk/) , which has become one of the largest and most respected PHP conferences in Europe.
The Good Old Days
I was introduced to the meetup in a previous job role around 2014, when it was hosted at Google Campus in Moorgate. My colleagues regularly attended, and invited me along (I recall it was brought up during my interview in fact). I really enjoyed the sense of community, and learning about the emerging (at the time) technologies such as Docker and Kubernetes. I specifically remember being present when Composer (https://getcomposer.org/) was first introduced, Composer is now ubiquitous in the PHP Community as the PHP package manager.
So inspired was I, that I even decided to submit my own talk topic. Happily it was accepted, and I presented "The Power of Modern Version Control" at PHP London in August 2014, and at the PHP UK Conference in February 2015.
By this time the venue had moved to Dogget's Coat and Badge, near Blackfriars Bridge, one of many different venues to serve as host. Other notable venues include Google Campus and Sainsbury's Technology Hub, before the pandemic lockdown happened in 2020 and face-to-face meetups ended for a long while.
After Pandemic – In-person Meetups return!
Once things started to return to normal after lockdown, the PHP London meetup needed a new venue to start hosting face-to-face again. At the same time we at LendInvest were looking to reach out to tech communities and get more involved. The match-up is perfect, LendInvest code in PHP for our services, and we have a stunning office.
Personally I was delighted to hear that PHP London was returning face-to-face, and even better it was where I work!
So, the first PHP London Meetup hosted by LendInvest was held on 21st July 2022, quite a few LendInvest staff, including myself, attended and helped organise the office. Our speaker was Derick Rethans (https://twitter.com/derickr) who talked about "What's new in PHP 8.1/8.2", an interesting and useful insight into the latest functionality coming to the PHP language.
Since then the attendance has been steadily increasing, and the quality of talks remains high.
The February meetup was one of the highest turn-outs we have seen since we started to host the Event, a fact that was noted by the PHP London organisers who tweeted about it; attaching a very professional looking short video. (https://twitter.com/PHPLondon/status/1621229117193523203)
As you can see from the video, the meetup attendees are treated well. PHP London and its sponsors provide pizza, and the drinks are on LendInvest!
The speaker this time was Yannick Chenot (https://twitter.com/osteel) who gave a great talk about "PHP for the command line", detailing some helpful information about various tools and methods for creating useful PHP applications without the need for a web server.
After the talk it's normally time for another drink, and some tech talk with the attendees until we all head out locally for more socialising.
Anyone is welcome to attend the PHP London meetup, if you think it sounds interesting and would like to visit Fitzroy Place, keep a lookout for the next one on meetup.com! (https://www.meetup.com/phplondon/)