November 15, 2016
Luton ranked top buy-to-let town in England and Wales
Luton came out top in our latest quarterly research Index on the UK Buy-To-Let market. The revamped format ranks each postcode based on the following metrics: capital value growth, transaction volumes, yield and rental price growth.
Key findings
The top 10 buy-to-let towns are dominated by postcodes found in the South East, with Northampton the only exception.
Luton in Bedfordshire took the top spot, with rental prices jumping nearly 10%, the largest increase in the country.
Enfield in North London was ranked third overall, but saw the largest capital gains at 17.4%.
The top 10 buy-to-let postcodes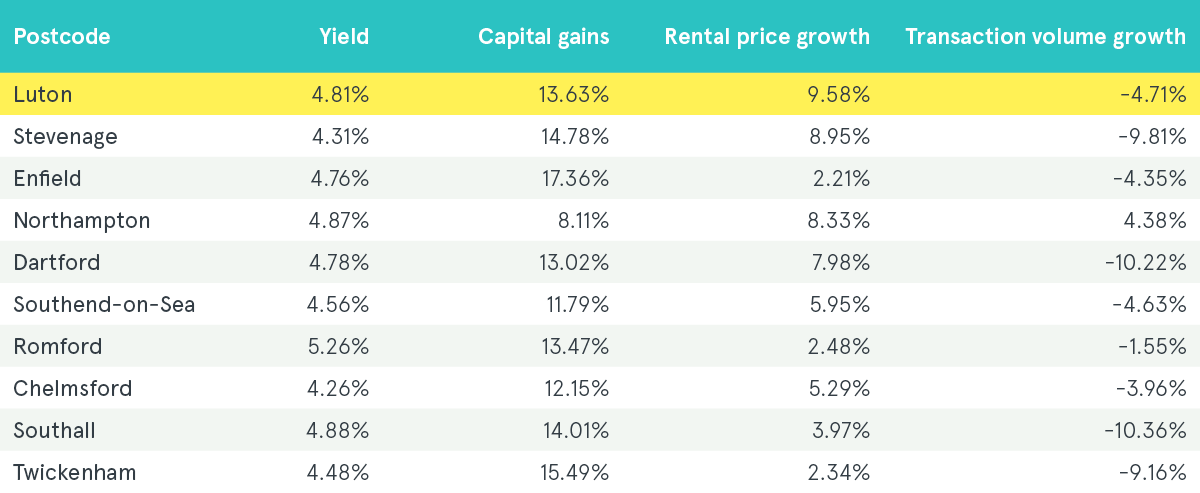 >> Read the full report here.
What's Luton got going for it?
Luton can come with a sneer, but it was once the centre of the UK's hat industry, which is why Luton Town Football club is known as The Hatters. It was a town living the dream and still has remnants of its heyday: pleasant parks and avenues in the north, good schools, civic spirit in its carnival arts centre.
It is not the most aesthetically beautiful of spots, though there is beauty next door, thanks to the Chiltern Hills.
It's well connected:
Trains: on the Thameslink to Sutton or Brighton, via St Albans (15 minutes; six an hour), West Hampstead (28-39 mins; four an hour), London St Pancras (23-49 mins; six an hour) and London Blackfriars (46-62 mins; six an hour) and many services north.
Driving: beside the M1; 20 mins to St Albans and the M25, 30 mins to Milton Keynes, 45 to Northampton and 60 to central London. And your very own airport.
It has a number of good schools:
Schools: Luton has many "good" primaries (Ofsted), Hillborough is "outstanding". Secondary schools include Cardinal Newman Catholic , Lea Manor High, Lealands High, Icknield High, Stopsley High, Putteridge High, Ashcroft High and Stockwood Park Academy; all are ranked "good" by Ofsted; Denbigh High and Challney High for Boys are ranked "outstanding".
Read the full BTL Index report for this quarter here.