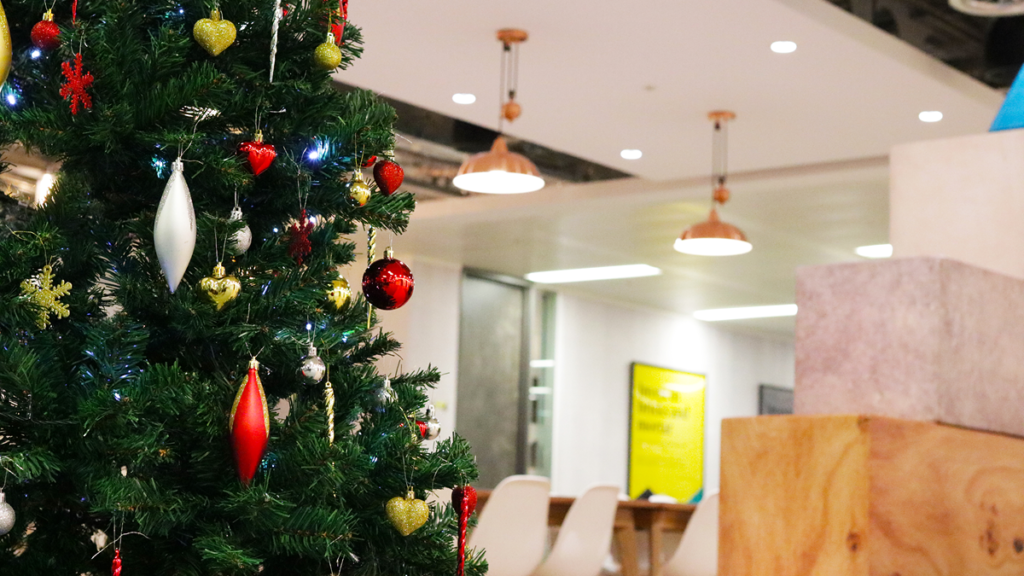 December 20, 2019
Diverse teams find common ground in holiday sweet cravings
We've brought together a team of creative and talented people from around the world to develop the technology that goes behind everything we do at LendInvest.
Over the holiday season we see plenty of common ground as this team from different backgrounds and cultures unite with their preparations for a journey home to enjoy their favoured traditions, festivities, and foods, or recreate them in their new home.
Our Head of Design, Sära Furlong, spends her winter holiday visiting family in Ireland. "I have an uncle who is a Catholic priest and another who is a monk. As you can imagine, it's a busy time for festivities and tradition in our house."
Exemplifying her boundless creativity, Sära puts a unique spin on some old holiday traditions. Instead of raising a Christmas tree, Sära and her partner collect branches from their favourite parks around London and hand paint eggs for decorations. "This is similar to an Easter tradition we did with my mother as children called Ostereierbaum," explained Sära.
Mikhail Prosalov, Engineering Team Lead, will not be traveling home this holiday season to face the -40° temperatures in his hometown of Omsk, Russia. So Mikhail will miss the traditional Siberian New Year's celebration of tree trimming, fireworks and holidays toasts to say proshchay to the old year and privetstviye to the new one.
For Mikhail and his family, an Orthodox Christmas feast means eating plenty of salad—potato salad (olivier), herring salad (shuba), and an egg, fish and cheese salad (mimosa). These salads are enjoyed along with helpings of meat jello (holodets) and pickled vegetables of all sorts.
Read more: Reaching beyond London to scale your team
Home from home
This year, Thiago Marini, a senior software engineer, will not be flying the 5,898 miles from London to Sao Paulo. But remaining in London affords Thiago an additional day of celebration. "The Catholic tradition in Brazil is to celebrate Christmas dinner on the 24th, then eat leftovers and chill out on the 25th. In the UK, Christmas is celebrated on the 25th and 26th. So usually we meet our Brazilian friends on the 24th and European friends on the 25th, having two days of celebration and good food instead of one."
For Thiago, the numerous Italian shops around London make it easy to indulge in his holiday panettone habit. In Brazil, not only is Italian panettone popular around the holidays, but so is the Brazilian version of French toast, rabanada.
When Meenakshi Choudhary, our Lead QA Engineer, thinks of the holiday season back in her hometown of Jaipur, India, she thinks primarily of Makar Sankranti, the kite festival, which takes place in January and attracts visitors from all over India.
Meenakshi's favourite holiday food is gajar ka halwa, a carrot-based sweet dessert pudding. "It's prepared only in the winter season and is a delight to the tastebuds." Other festive sweets Meenakshi and her family enjoy are gajak (sesame brittle), til ke laddu (sesame balls), and feeni (vermicelli fried in ghee and dipped in syrup).
Though our frontend engineer Tunde Ganiy will remain in London for the holidays, he won't miss out on the traditional holiday stir-fry served back home in Nigeria. Jollof is a "one pot" meal of rice, tomatoes, onions and chilli peppers. It's beloved throughout West Africa, particularly in Nigeria. Tunde's holiday plans include plenty of home-cooked jollof shared with friends.
Read more: The creative life of a QA Engineer
Old traditions
Lorenzo Iannone, Head of Development, hails from Molise, Italy. Molise is known for the costumed musician who descends from the mountains during the holidays playing Christmas carols on bagpipes (zampogne). Lorenzo, sadly, will miss out on the bagpipe performances this year, but will have no problem satisfying his seasonal craving – shared with Thiago – for panettone.
When our Backend Engineer, Evangelos, returns to his hometown of Athens, Greece next week he looks forward to sharing vasilopita with friends and family. Vasilopita is a traditional sweet bread or cake served in Greece, eastern Europe and the Balkans during their New Year's celebrations. Whoever receives the hidden coin baked inside the vasilopita is said to receive good luck over the coming year.
Our fingers are crossed that Evangelos and everyone else traveling abroad over the holidays will return to London renewed and ready – and well fed from the sounds of things – to start off a new year after the joy of some old traditions.