December 1, 2017
Top 25 PropTech Influencer List 2017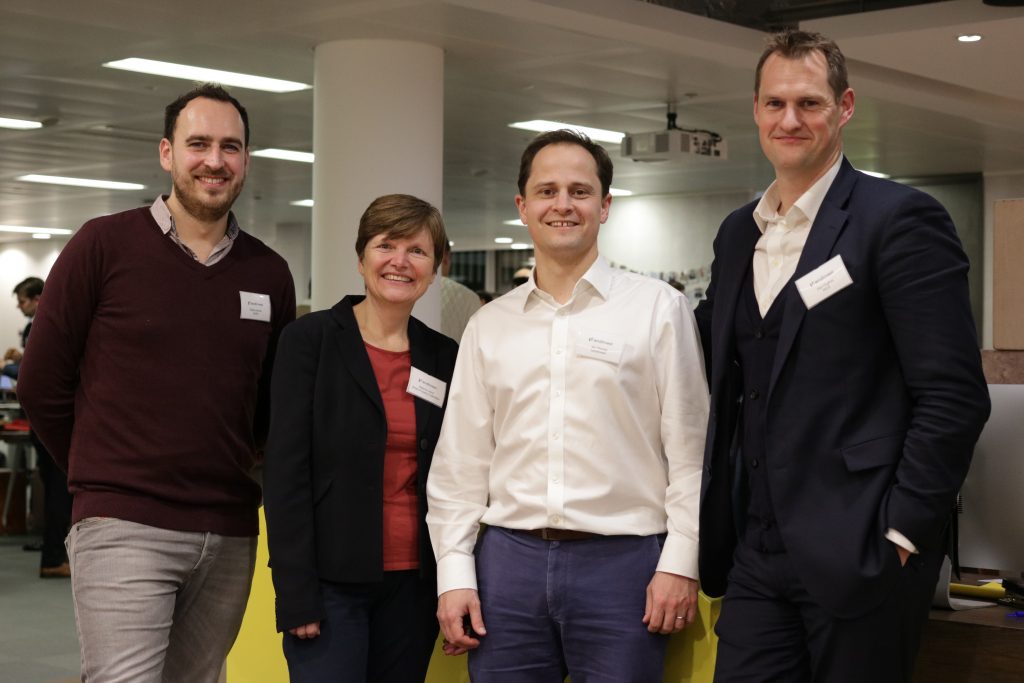 We've counted the votes and the LendInvest PropTech Influencer list is back!
This year you voted in your hundreds for the people around the world doing the most to develop the understanding, reach and benefit of PropTech in the global property market. Thank you for taking part and making this year's list the best yet.
We compiled the list with the invaluable help of the UK PropTech Association (UKPA). Eddie Holmes who founded and chairs the UKPA joined us to judge and rank the stack of nominations we received. We were also helped in huge part by James Dearsley, the PropTech consultant/evangelist who came #1 on last year's table.
We were really pleased to see so many votes come in for people based outside of the UK. New for 2017, and to celebrate the huge contribution to the evolution of PropTech in the global property market, we've published a standalone Top 10 International Influencers List too.
Christian Faes, Co-founder and CEO of LendInvest, said: "We were staggered by the hundreds of nominations we received this year, not just in the UK but from overseas too. As digital transformation in property becomes more universally accepted, its influence is becoming borderless, and that's reflected in this year's list."
Get to know our PropTech Influencers
Here's our list of the 25 people on a mission to promote or pioneer new uses of technology to refine, improve or reinvent the services we rely on in the property industry.  
1.Dan Hughes – Director of Data and Information Product Management for RICS As the PropTech lead for RICS, Dan has taken responsibility for driving the digital agenda within the organisation and its many members. With an unrivalled Twitter following through which he releases lots of informative content and a willingness to rack up air miles to promote PropTech in far flung destinations, Dan leads from the front and his views always stimulate thought-provoking debate.
Follow Dan @PropertyDanH
2. Andrew Baum – Chairman of Property Funds Research at Oxford The leading academic in PropTech, Professor Baum is a new entrant to the list for 2017, in no small part due to the reaction that his PropTech 3.0 report garnered. Written for his sometime home, Said Business School at Oxford University, the report was the most shared document concerning PropTech of the entire year (and possibly ever). Much of the content has now been accepted as fact, although some remains very much up for debate.
Follow Said Business School at Oxford University @OxfordSBS
3. Antony Slumbers – Digital Strategist and Product leader Anthony works tirelessly to educate (and call out) the property and PropTech industries to collaborate and embrace digital transformation. A regular columnist in Estates Gazette and on his own blogs, Anthony can always be relied upon for an informed opinion. His "Space-as-a-Service" phrase is now part of the industry's lexicon.
Follow Antony @antonyslumbers
4. Gary Chimwa – Founder & Events Director at Future:PropTech The man behind the Future:PropTech series of events has seen remarkable growth for the business, both in the UK – where attendees topped 800 – and abroad where satellite events were held in Berlin and Vienna. With a key role to play in connecting and educating the property industry with and about PropTech, Gary's influence is likely to increase even further in 2018.
Follow Gary @_futureproperty
5. Dominic Wilson – Managing Partner at PiLabs At the helm of the UK's leading PropTech incubator, Dominic has overseen further new cohorts during 2017 and the creation of the UK's first small PropTech focused fund
Follow Dominic @Dom7Wilson
6. Andy Pyle – Partner of Real Estate at KPMG Andy authored KPMG's recent PropTech report that served to highlight attitudes in the property industry.
Follow @KPMG
7. Dan Korski – PropTech & GovTech VC An ex-No 10 adviser and co-founder of a VC firm supporting businesses to transform public services and infrastructure, Dan is giving a leg-up to PropTech startups.
Follow Dan @DanielKorski
8. Andrew Lloyd – MD at Search Acumen Using his in depth knowledge of conveyancing and passion for progressive technology to re-engineer the property search process
Follow Andrew @Andrew_S_Acumen
9. Brian Berry – CEO of the Federation of Master Builders A leading voice for the homebuilding industry, often championing modern methods of construction and innovation in the property sector.
Follow Brian @BrianBerryFMB
10. Christian Faes – Co-founder & CEO, LendInvest Christian oversees the UK's largest marketplace for property finance – and is the chief backer of the LendInvest PropTech Influencer List!
Follow Christian @ChristianFaes
11. Russell Quirk – Founder & CEO, eMoov Russell cemented Emoov's position as one of the "big 3" online agents in 2017 with a £9m raise and a pioneering no-sale-no-fee model.
Follow Russell @eMoovCEO
12. James Morris Manuel – EMEA Director at Matterport Tell a property person that you are involved in PropTech, and they will ask "do you know Morris Manuel?"
Follow Morris @morris_manuel
13. Emily Wright – Estates Gazette A key figure in carrying PropTech developments to commercial audiences.
Follow Emily @EmilyW_9
14. Graham Norwood – Estate Agent Today Regularly devotes column inches to key PropTech issues facing residential property firms.
Follow Graham @PropertyJourn
15. Alex Edds – Director of Innovation at JLL Works tirelessly to turn the JLL oil tanker and advocates for sustainability through technology.
Follow Alex @alexedds_
16. Matt Partridge – Founder & CEO, Infabode Matt aggregates enormous amounts of content about PropTech on his platform.
Follow Matt @mjpartrige1
17. Jonny Britton – Co-founder & CEO, LandInsight An important lobbyist calling to get more publish data made available to PropTech businesses.  
Follow Jonny @JonnyBritton
18. Melanie Leech – CEO at the British Property Federation Works with leading figures at the vanguard of the BPF's response to threats and opportunities of PropTech.
Follow Melanie @BritProp
19. Alex Bailes – Head of Product Engineering EMEA, CBRE A regular panellist and judge at PropTech events.
Follow Alex @alex_bailes
20. Savannah de Savary – Founder & CEO, Built-ID  A well-known PropTech face, and advocate for the sector within the property industry.
Follow Savannah @SdeSavary
21. Dan Hegarty – Founder & CEO, Habito An advocate for digital mortgage transformation who closed a great funding round in 2017.
Follow Dan @dh_habito
22. Rajeev Nayyar – MD, Fixflo His efforts to educate PropTech businesses about GDPR, while running a solid business have helped many within the industry.
Follow Fixflo @fixflo
23. Nick Katz  Co-founder & CEO, Acasa The only UK-based finalist in the MIPIM Global PropTech Awards.
Follow Nick @NicholasKatz
24. Michael Marciano – Founder &CEO, My SPD  His regular insights series of PropTech talks help bring issues and opportunities to a wider audience.
Follow My SPD @my_spd
25. Alex Storey – UK Country Director, Disruptive Technologies A former Googler, Alex takes PropTech networks and solutions into many varied industries.
Follow Alex @alexcstorey
Top 10 International List
Michael Beckermann – Founder & CEO, The News Funnel Michael runs the most widely read and influential commercial property and PropTech channels in the USA.
Follow Michael @m_beckerman
Aaron Block – MD, Metaprop NYC The highest profile early stage investor in PropTech.
Follow Aaron @aaronnblock
Brad Greiwe – Co-founder & Managing Partner, The Fifth Wall Brad runs the largest PropTech investment pot in the world.
Follow Brad @Bradley_Greiwe
Ragnar Lifthrasir – Founder & CEO, Velox.re One of the world's leading voices on the application of Blockchain in real estate
Follow Ragnar @Ragnarly
Duke Long – Strategic Partnerships, Rex The most quoted man in commercial real estate.
Follow Duke @dukelong
Emilio Matthaei – Founder, Leverton Leading deep learning and AI in property.
Follow Emilio @EmilioMatthaei
Filippo Rean – Head of Real Estate, MIPIM Key influencer through the content of MIPIM shows. Launches MIPIM PropTech in 2018.
Follow Filippo @filipporean
Nick Romito – Founder & CEO, VTS Mergers, acquisitions, scaling.
Follow Nick @NickRomito
Magnus Svantegard – Head of Product, Datscha Launched well-received Nordic PropTech initiative.
Follow Magnus @magnus_s
Wouter Truffino – Founder & CEO, Holland PropTech A passionate advocate for Holland, PropTech and a combination of both.
Follow Wouter @WouterTruffino
Check out our Infographic for this year's Top 25: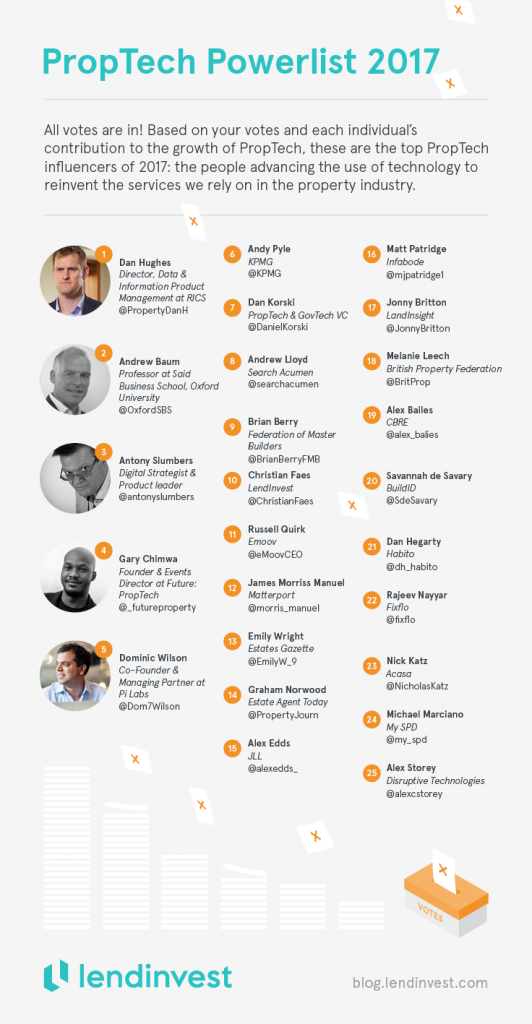 And our 10 International Influencers: