July 4, 2023
Mortgage Technology – to build or buy?
The mortgage industry has seen significant technological advancement and transformation in recent years, and June's Mortgage Tech Meetup focused on exploring the key considerations faced by professionals when it comes to choosing between building their own technology or adopting existing solutions.
The panel hosted by Maria Harris – Director at Digital Cat, included Joy Abisaab – CEO at Mast, Laura Myers – Technology Account Manager, Intermediaries Distribution at Lloyds Banking Group, Arman Tahmassebi – COO at LendInvest, and Avison Warren – Head of Operations, Specialist Mortgages at United Trust Bank Limited.
Throughout the discussion, the panellists provided their unique viewpoints based on their roles and experiences in the mortgage industry. They explored the challenges, benefits, and potential risks associated with both approaches. Arman provided insights into LendInvest's tech-enabled platform and compared the mortgage market's approach to technology. Laura discussed Lloyds Banking Group's focus on innovation across different platforms and brands and how they navigate the diverse needs of their customers. Joy explained Mast's use of cloud-native technology to digitise the mortgage onboarding process and addressed why lenders choose to buy technology solutions instead of building them in-house. Avison highlighted United Trust Bank's approach to building solutions internally versus partnering and buying externally and the recognition they received for their technology and intermediary platform solutions. The panel stressed the importance of collaboration between lenders and other industry partners to drive innovation and improve the overall customer journey.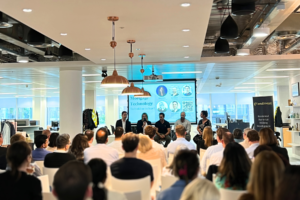 "A big step forward is that new tech companies are building components that can fit together or be built on, instead of needing a wholesale change in operating system" – Maria Harris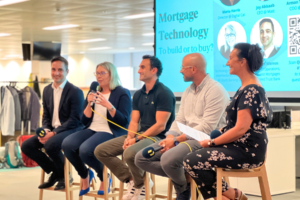 "Big data, open source, the cloud have been the holy trinity in tech advancement." – Laura Myers
During an engaging audience Q&A session, the panel also covered topics such as core servicing mortgage systems, broader innovation in the mortgage industry, enabling same-day mortgages, transparency and shared standards the industry, role of AI and blockchain, challenges faced by traditional high street lenders with legacy systems, and the role of intermediaries. The session concluded with each panellist sharing their thoughts on the biggest advancements to come in mortgage technology, including AI, data-driven personalisation, and leveraging technology to improve the customer experience in the mortgage process.