June 13, 2023
Behind the Scenes: 10 Questions with… Waqar Khan
Waqar joined LendInvest in April 2022 as our Business Development Manager for the North West. Waqar builds and maintains relationships with mortgage brokers and intermediaries in the region, introducing our product range across Residential mortgages, Buy to Lets, Bridging and Development finance.
We asked Waqar 10 questions to understand more about his life outside of work:
1. What was your first job?
I had various paper rounds in my teens but my first "proper job" was in Topman!
2. What is your favourite book?
Wuthering Heights, very fond of my period dramas and this is a classic!
3. What pets do you have and what are their names?
I have a Westie and her name is Milk
4. What is your favourite/bucket list holiday destination?
Florence, Italy! Slightly obsessed with the food, culture and history
5. If you could invite any 3 people (living or dead) to a dinner party, who would they be?
Anne Boleyn, Joan Rivers and Michelle Obama
6. What is your biggest fear?
Being asked 10 things about myself
7. What would your "death row" meal be?
A donner kebab, specifically from a place in Sheffield. Never had one better than it to be honest
8. What's the best piece of advice you have received?
"Believe in your slay", it's become a mantra for me and reminds me to always believe in myself
9. If you could bring back any fashion trend what would it be?
I think it'd be great if we would all start wearing flares again
10. If you could go to Mars, would you? Why or why not?
If my safety getting up there is 100% guaranteed then absolutely! Also give me something to do, just don't leave me there. It'd be an experience and to be able to see the world in a whole different perspective would be incredible and I'm always up for an adventure.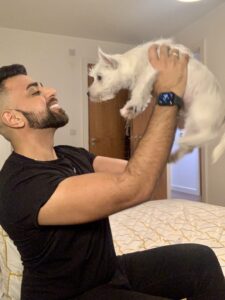 Waqar with Milk the Westie