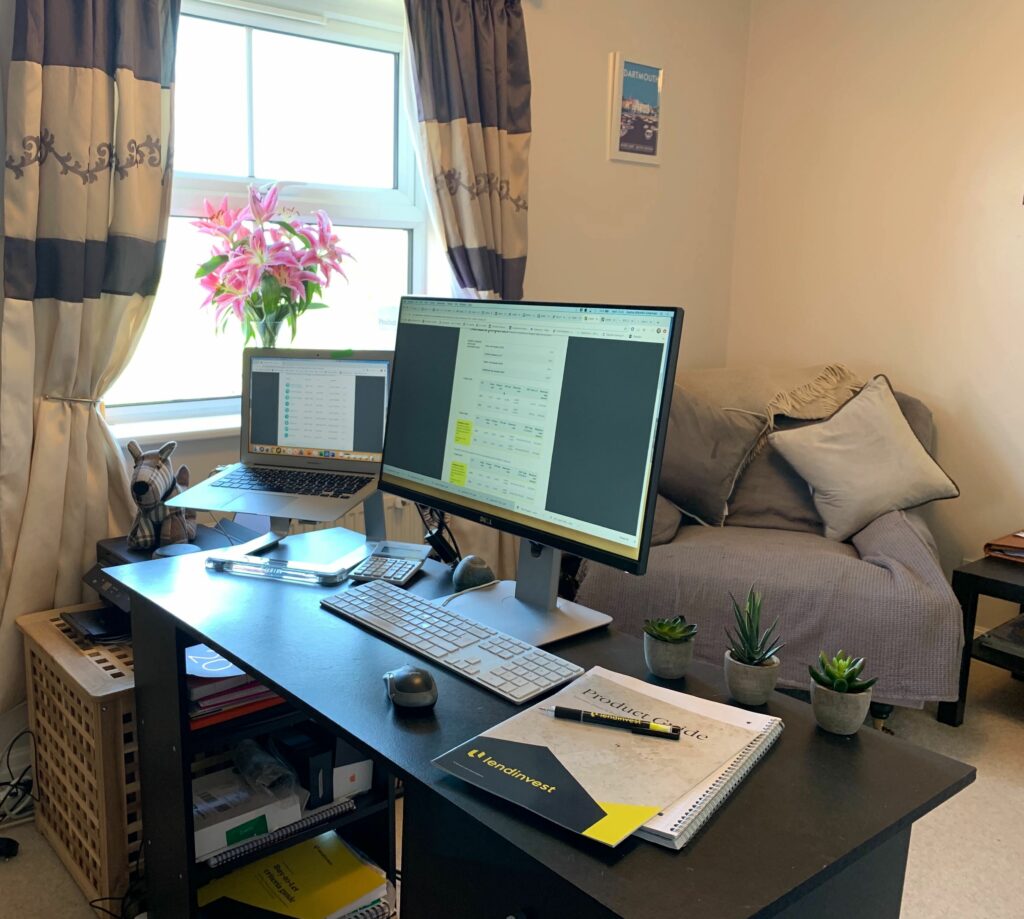 April 22, 2020
A day in the life of a remote LendInvest Business Development Manager
As we're all settling in to our new way of working out of the office, we decided to check in with members of our team each week to find out how their day to day has changed, and the ways they're staying in close contact with their fellow LendInvesters.
Today we're catching up with one of our Field Business Development Managers, Sophie Mitchell-Charman.
As a field BDM, has your morning routine changed dramatically since lockdown began?
It has! Pre-lockdown I would be up at the crack of dawn to take my dogs out for their first walk, but as you can only exercise once a day, I am now doing that in the afternoon to break the day up.
Life out on the road used to also mean some very early starts to get over to places like Southport or up to Newcastle, it takes a lot less time to walk into my home office.
How do you make the most of the time you'd usually spend travelling to meetings?
Despite the new found time, I have a host of new things that need to be done as a result of the crisis.
This can range from helping the business develop new products tailored for our customers during this period, trying to push the team's cases through to completion, looking after our brokers and trying to keep them up to speed, collecting feedback on the market and competition, joining more Zoom meetings and calls with colleagues and brokers, and prioritising continued learning at this time through extra training sessions.
What does a typical day look like for you now?
I start most days by sitting at my desk and checking emails and updates for things that have come in overnight or any changes in the press from other lenders and the industry. I tend to eat breakfast with my husband, something we haven't done during the week for years, if ever!
I'll pick up new enquiries for myself and the team, dealing with Buy-to-Let myself and passing bridging enquiries to the Sales Desk to process. I always have a high level of incoming calls, and right now most are taking longer as people are keen to chat and see what is changing and where our appetite is. Throughout the day I stay on top of completions and the pipeline cases to chase through to completion, touching base with Case Managers and Underwriters regularly.
We have a daily call with the whole team. There's a lot changing industry wide almost everyday right now, so this update is key to keep on top of everything. I also work closely with marketing to help feed in and support from a sales angle.
At lunch i'll usually go out for a run or walk with my dogs. Today we ran 5k, and they swam in the river on the way back – we live in a pretty remote area, so we see very few people while we are out.
Other things I do daily are keep in contact with my core brokers via Zoom to maintain those relationships and offer support. I also spend time working with our mortgage club data to start to build new relationships and prospect for future business.
I am always at my desk until the end of the day, but my phone remains on all evening as brokers will often call/email and as things keep changing, I need to be on top of things now more than ever!
It can be an adjustment to create a new working structure while at home, how do you go about planning your day?
I have always been very organised and love a to-do list, so every morning I have a list of things that need to be carried out. I'll also always have several calls in the diary already, which gives the day some structure. Any difficult calls are made first to get issues resolved or moved on quickly.
I think it is very important for everyone to get some fresh air and some exercise especially in times like these, so I try to do that at lunch to give me some time away from my screen.
By the end of the day I have prepared for the next so I am ready to go in the morning!
Contacting external contacts is clearly a large part of your role, has communication been an issue during this period?
As a business we are very proactive with our emails and social media, which has helped in keeping our customers updated. Calls are easy to make to core brokers to keep them up to speed with any product changes and their cases.
I believe that on the whole anyone still working has been set up to work remotely, so I haven't seen a big change in the way we communicate. Video calls clearly have made a huge difference, and have allowed business to continue in a seamless, efficient way.
How are your team staying in close contact and working together efficiently now we're all remote?
We have daily calls and Slack channels so we pretty much stay in constant contact! As a team we are collating feedback weekly so we can share common themes and challenges. Google Hangouts has also proven to be a life saver, especially at the start of lockdown when the situation was so new for everyone.
What is your lockdown TV series recommendation?
We are currently re-watching Game of Thrones from scratch, a big commitment but we certainly have the time…
What are you most excited about doing once movement restrictions are lifted?
Riding my horse! I'm not hacking or jumping right now as any accidents would put a strain on the NHS. He is getting very barrel-like from chilling in the field eating grass all day.