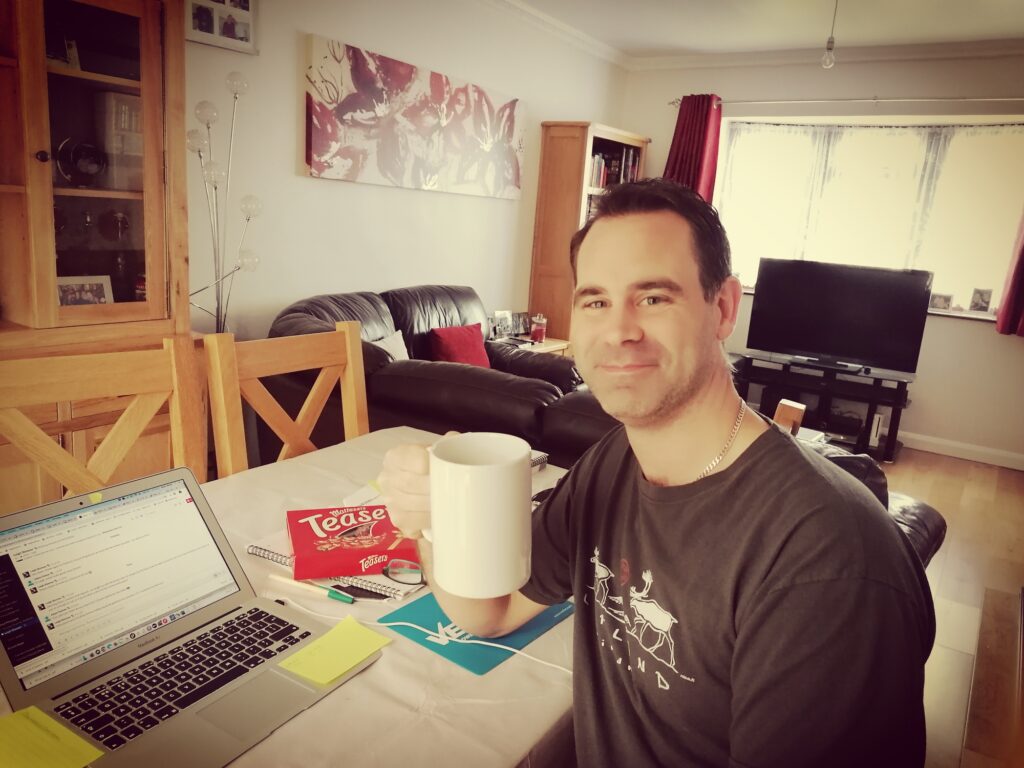 April 2, 2020
A day in the life of a remote Case Manager
It's undoubtedly been a strange couple of weeks for the team. We've switched our desks for home offices, kitchen tables and sofas, and settled in for a new period of remote working for the business.
As we're all starting to become accustomed to our new way of working out of the office, we decided to check in with members of our team each week to find out how their day to day has changed, and the ways they're staying in close contact with their fellow LendInvesters.
Today we're catching up with one of our Buy-to-Let (BTL) Case Managers, Adam Palmer.
Tell us about your new morning routine, has it changed dramatically?
I generally roll out of bed a fair bit later than i usually do for the office, (which is nice!) but I still get up around 7.30am. That way I have time to grab brekkie and get myself ready. Whilst I usually dress quite formally to go into the office, I've taken advantage of my casual gear at home.
How do you make the most of the time you'd usually spend commuting?
In the morning I can now sit down properly and have breakfast, whereas i'd usually be on my motorbike, then shower at the office and eat at my desk. It's also been great to use my evening commuting time to get in an extra workout, at the moment I've been going for a run straight after work.
What does a BTL Case Manager do, and what does a typical day look like for you?
My job is essentially to be on the front line for BTL operations. This means taking and making calls to brokers, and assessing incoming cases ready for underwriters.
A typical day for me would start with a morning stand-up with the operations team, then have a quick catch-up with the case manager team. Throughout the day I'll spend time assessing all incoming valuations and cases ready for underwriting, as well as carrying out initial assessments on all new fees paid/application form signed cases.
I also spend a lot of my time checking through documents provided for our existing cases, and chasing outstanding documents from brokers. It's also key for me to check cases for Sira responses (our fraud system), and be around to assist the underwriters when required.
When we moved to remote working, what needed to happen for you to keep doing your job?
Luckily I was already pretty well set up to move to remote working, I just needed our internal phone application adding onto my laptop. Many other case managers had screens delivered, however I didn't as I should have been moving house!
..and has your day changed much since working remotely?
It's changed in the sense that our meetings are now all held via Google Hangouts, however i'd say not much has changed in terms of the work I do. There are still brokers to call throughout the day and applications to help progress.
It's nice not to have to commute, as it gives you so much more time to your day either to continue working where needed, or more free time to exercise etc. As case managers are required to cover calls, lunchtimes haven't changed too much – although I do nip out for a walk at lunchtime now!
How are your team staying in close contact and working together efficiently now we're all remote?
Staying in contact on Slack and Google Hangouts have been really useful whilst we're all apart. A positive is we were so used to using Slack to communicate across our different desks in the office already, it doesn't actually feel that different. Then if something needs discussing face-to-face, all we have to do is jump onto Hangouts, and there's everyone looking back at you ready to catch up.
What are you most excited about doing once movement restrictions are lifted? (and what are you most excited about getting back to the office for…)
Moving house! We were due to exchange then complete on 15 April, but lockdown put a stop to that. I'm also looking forward to seeing my parents and my sister with my three year old niece, seeing friends and going out with my wife for drinks and dinner & exercising, (I play badminton for a club!)
I'm also looking forward to seeing everyone at work! I definitely miss people when working from home, plus I have to say I'm missing the office chocolate cupboard!