December 19, 2017
Manchester & Birmingham come out on top in LendInvest BTL Index Christmas special
London, 19 December 2017 – LendInvest, the leading specialist property lender, has released a special Christmas Markets supplement to the quarterly LendInvest BTL Index.
With the festive season now upon us, LendInvest has found the ten towns and cities that host the biggest and most popular Christmas markets around the country, and ranked them according to their positions on the latest LendInvest BTL Index.
Manchester and Birmingham, incidentally home to the two largest Christmas markets in the UK, take first and second place in the table. Manchester also ranked #1 overall in this quarter's BTL index after an impressive climb to the top (rising from #21 in February, to #8 in June and #3 in September).
All ten Christmas Market towns ranked highly this quarter, with towns one to ten ranking in the top 50 of the latest BTL Index.
Ian Boden, Sales Director of LendInvest, commented: "It's exciting to celebrate this list of some of the country's most vibrant and festive towns at this time of the year. Not only do these places get into the spirit of the season, but their Christmas markets play an important role in their local economies. Every market will attract many visitors to the region every year, benefitting the town's own retail, hospitality and accommodation sectors."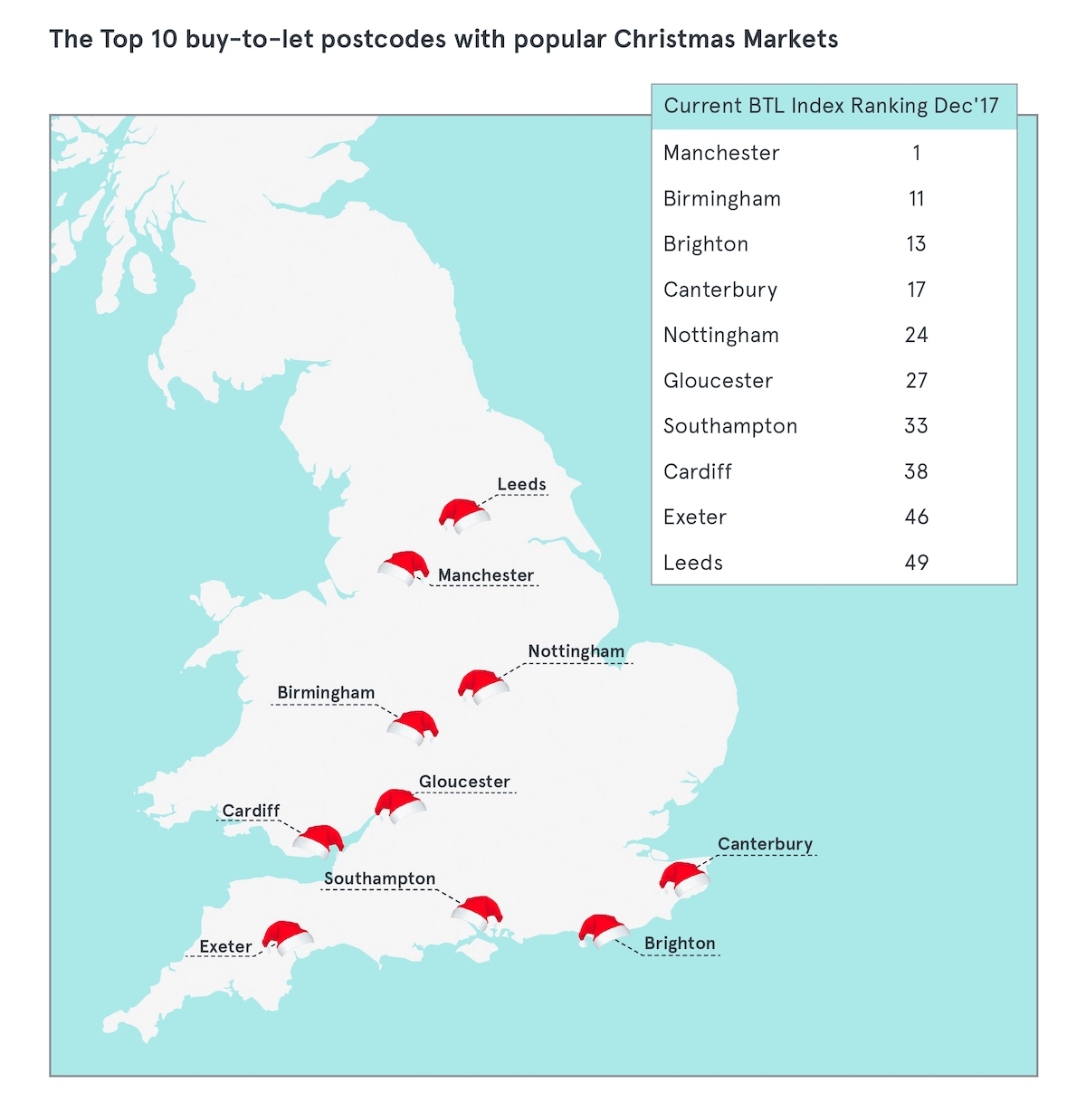 Published quarterly, the LendInvest BTL Index ranks all 105 postcode areas around England and Wales based on a combination of four critical metrics: capital gains, transaction volumes, rental yield and rental price growth.
Note to Editors:
About LendInvest
LendInvest is the UK's leading platform for property finance.
LendInvest offers short-term, development and buy-to-let mortgages to intermediaries, landlords and developers. Its proprietary technology and user experience are designed to make it simpler for both borrowers and investors to access property finance.LendInvest has lent over £3bn of short term, development and buy to let mortgages.
Its funders and investors include global institutions such as HSBC, Citigroup and NAB, and, in 2019, it was the first Fintech to securitise a portfolio of BTL mortgages. The company has reported annual profitable growth since 2015 and was named Digital Innovation Award Winner at the Sunday Times Tech Track 100 Awards, and both Specialist Lender and Buy-to-Let Lender of the Year for 2019 at the last NACFB awards.