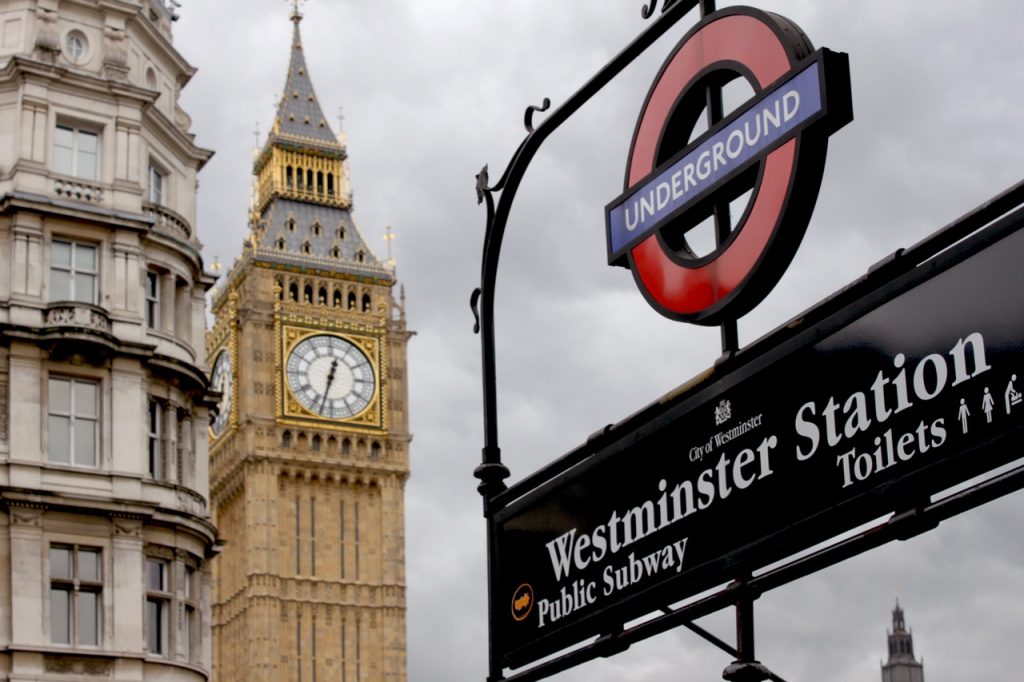 September 22, 2016
Our response to the National Housing Taskforce's call for evidence into new sources of housing supply
This is our official response to the National Housing Taskforce's call for evidence into new sources of supply for housing in the UK. In it we describe why we see SME housebuilders as an engine for growth in Britain and what's holding them back. In the eighties where there were 12,200 small builders building homes in the UK. In 2014 the count was just 2,400 and this has had a hugely detrimental effect on the UK's ability to provide enough homes for people in the UK.
So we welcome this coalition of policymakers and industry to address the chronic challenge of housing supply shortages. It is exactly this coordinated approach that we believe must be continued if the UK is to address the housing crisis. In fact, we recently encouraged the Communities and Local Government Committee to work with a range of industry participants to identify opportunities to build more homes in the UK in our submission to the CLG Committee inquiry into capacity in the homebuilding sector.
Our role in the property market
LendInvest is the UK's largest online mortgage lender, providing bridging and development finance to small-scale house-builders and investors. As one of the country's leading FinTech companies, we specialise in building technology that makes it easier and faster for creditworthy borrowers to access mortgage finance, and gives more people the opportunity to invest in property finance.
LendInvest has lent over £740 million since 2008 to property investors and developers buying, building and renovating over 2,500 properties in over 200 constituencies. As the country has recovered from the prolonged financial crash, we have supported property SMEs to access the land, finance and the skills necessary to put more homes on Britain's streets. The LendInvest Property Development Academy is one example of initiatives we have taken to stimulate small-scale housebuilding beyond the supply of finance.
Housebuilding is an increasing area of focus for us as a business and we are delighted to have the opportunity to respond to this call for evidence. As the National Housing Taskforce takes its inquiry further, we are keen to support later stages by engaging in parliamentary hearings and providing further evidence to support this submission.
The importance of SME developers
We champion the SME housebuilder, who we believe can be the engine for growth in Britain, by building and developing residential property. As such, this response focuses on the role of property development SMEs in meeting the demand for new homes. We seek to underline their capacity to contribute to putting more homes on UK streets, while highlighting the obstacles and challenges that should be alleviated by the Government to achieve the best results.
The number of SME developers has been in drastic decline in recent years, which if continued, will undoubtedly affect the UK's housebuilding output. Back in 1988, the number of small builders (defined as those building 100 units or fewer) stood at 12,200 in the UK. That had fallen to 5,700 by 2006, and then just 2,400 by 2014. This 80% slump has been to the detriment of both the industry and the nation at large.
As the Government develops industrial policy, we see that the Government and industry can work together to re-establish SME housebuilders as a critical source of supply. This welcome attention on the prospects of SME housebuilders will prove fruitful in the long term.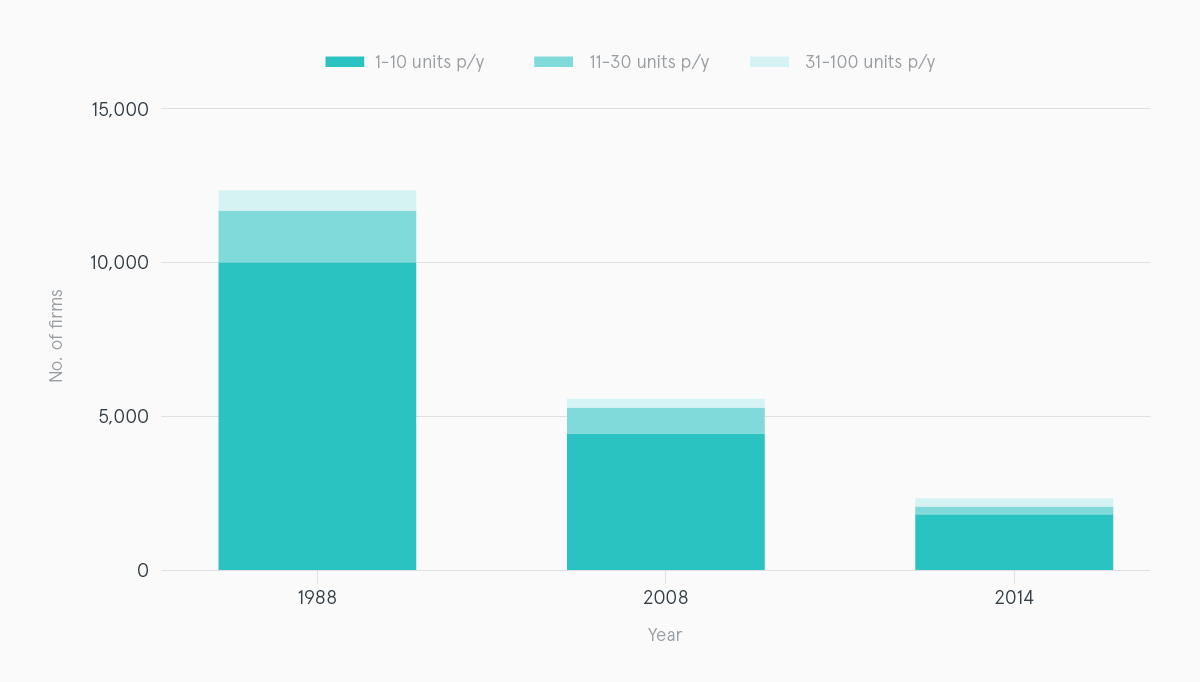 [Number of firms registering low volumes of housebuilding, 1988 to 2014]
LendInvest believes there is a trio of access points which require coordinated action by industry and government to improve the capacity of SME developers to contribute to their fullest potential. Access to land, finance and skills are three significant challenges for small scale developers, and only when access is improved in all three areas, can they put more streets on British homes.
Barriers and opportunities in releasing and obtaining land for housing development
SME developers present a great opportunity to drive productivity in land development. For many, it is difficult to access land as demand outweighs the supply of land. This restricts the growth of SME developers.
It is commonly recognised now that relying on the larger housebuilders to increase housing supply has proven ineffective. The Guardian notes that 615,152 housing plots have been "land banked" by Britain's nine largest housebuilders, meaning they sit on large amounts of suitable building land and develop it slowly, subsequently keeping prices high.
This inactivity on perfectly adequate land has one overriding consequence: there are fewer homes being started and completed than the number of permissions granted. While we understand that construction lag times often require a reasonable forward supply of land, government intervention in land banking would open up land for development by SMEs who do not have the resource to procure and bank land in the same way.
Small scale developers struggle most to access land, with 14% identifying availability of land at a suitable price as a "major challenge". The Government is taking positive steps to address this, by releasing public land, but has got off to what the National Audit Office has called a "slow start". As activity accelerates, more SMEs must be at the front of the queue to develop this land, offering unique and competitive products and building their own reputations at the same time.
Finance and funding schemes that help or hinder new sources
Banks and building societies were once the mainstay of housebuilding finance, but their share of the development finance market has shrunk by more than 20% since 2008. For many, capital adequacy requirements mean that development finance is just too expensive to lend. For others, there is little appetite to lend capital in return for minimal margins. Insurance companies initially stepped in after the credit crisis to fill a funding gap and now lend 10% of UK development finance. However their minimum investment sizes mean that they allocate to major developments.
Subsequently, traditional lending has become unbalanced in the development finance market, heavily skewed towards larger developers with projects of greater scale.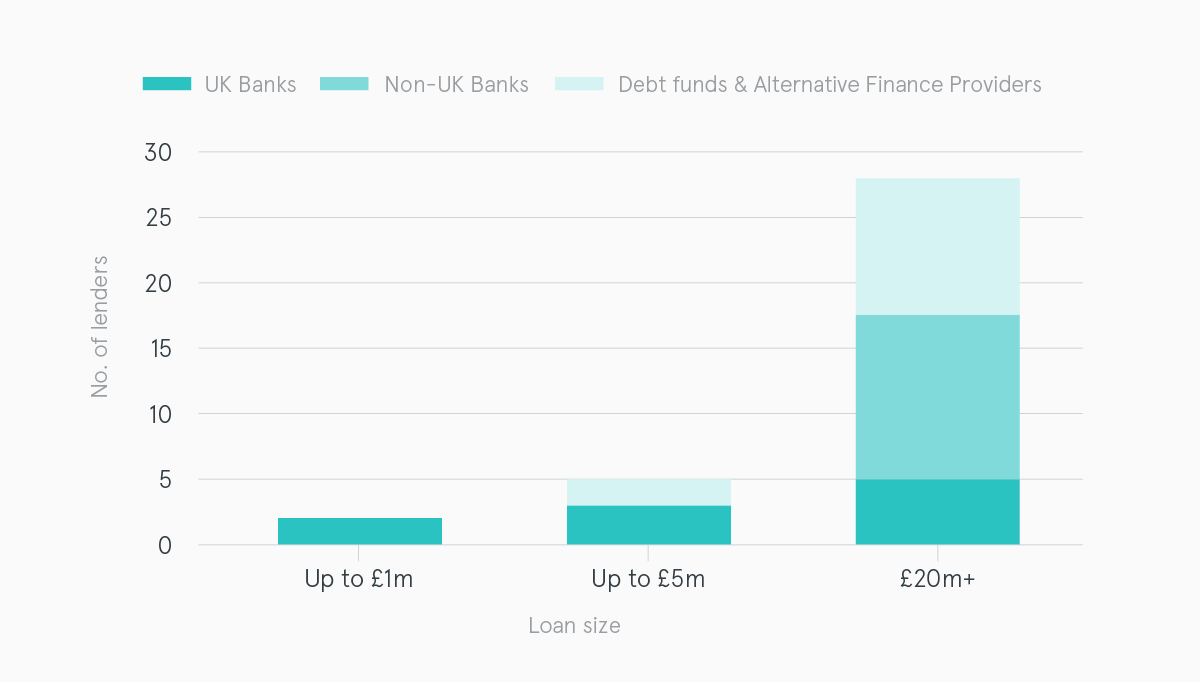 [The number of lenders prepared to lend at different loan sizes]
In this climate, SME housebuilders are consistently the least well served by lenders. Less burdened by capital constraints and lending costs of our traditional counterparts, it is alternative, "non-bank" lenders, like LendInvest, that are increasingly plugging the funding gap at the smaller end of the development market by building a suite of loan products to serve SMEs' needs.
By the end of 2014, the alternative lending market accounted for 14% of all development loans, and current market conditions indicate that this proportion is growing. In order to maintain a competitive, fair and open market, there should be greater government support for alternative finance sources, such as online mortgage lenders, and the role they play to underpin the work of SME developers.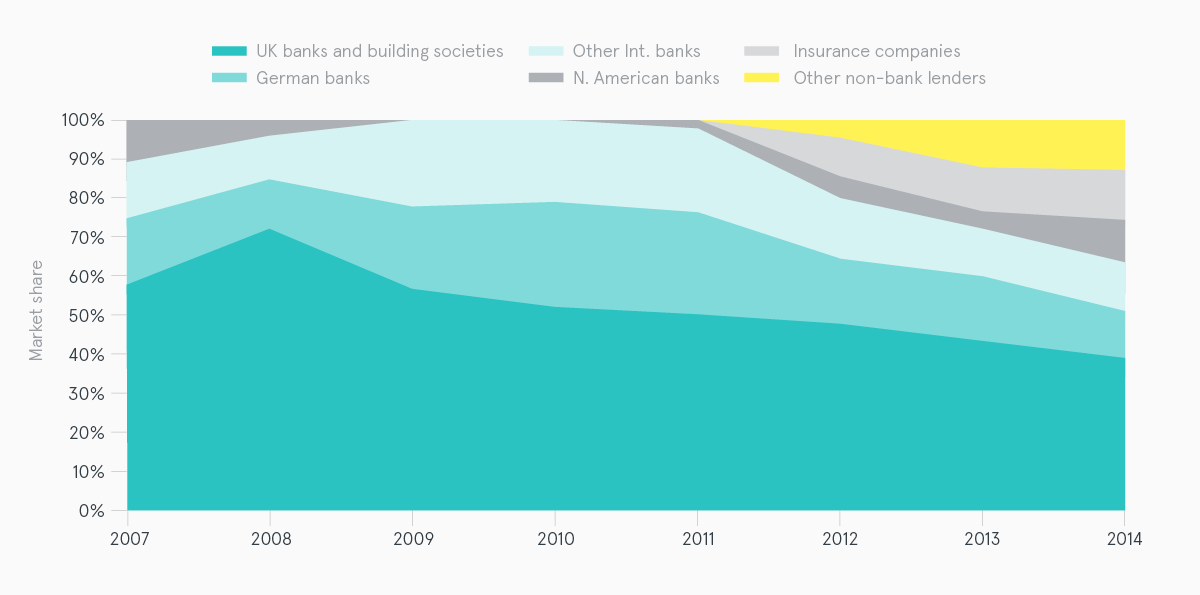 [Market share of annual loan originations 1999 to 2014]
Non-bank lenders, like LendInvest, are increasingly well established and have the suitable expertise to determine which SME property developers are likely to be good prospects. However, in the current market it can be challenging for alternative lenders to source additional lending capital. The Government is well placed to mandate state-backed funding schemes that enable lenders to offer more capital to SMEs. LendInvest sees this as an essential area for exploration by the Government in the development of its industrial policy.
Government funding for housebuilding projects, such as the mooted fund to be administered by the Homes and Communities Agency, should focus on supporting SME developers. There is an opportunity here for the Government to work with alternative lenders to channel funds to SME developers who have been determined as good prospects for public capital.
Enabling infrastructure and partnerships that government can support
The National Housing Taskforce's questions under this heading focus on partnerships that enable builders and developers to implement projects and see them through to completion. Rightly, the National Housing Taskforce indicates in these questions that partnerships, especially those between industry and government (both locally and nationally) are integral to the success of development projects.
LendInvest echoes this sentiment. However we also consider that when partnerships are generally discussed, they are handled in the context of improving the supply of land and finance. We would like to respond to this section as it relates to capability to address the third area of access where we deem there to be challenges for the sector: skills.
Access to land to develop and finance to fund getting tools in the ground can be hindered by the lack of know-how to complete projects. It is recognised already that there is a skills shortage in construction, but addressing this does not fully solve the skills gap. Many property developers, especially small scale developers, lack the knowledge and experience to make a success of their development projects.
Industry initiatives, such as the LendInvest Property Development Academy, present an innovative opportunity to increase housing supply by arming property entrepreneurs with the tools to build development projects from the ground up. In order to make a success of this, government and industry must work together to help these developers, from identifying development opportunities at the beginning, through to navigating planning processes and completing on projects.
The Government's industrial strategy must make provisions for upskilling the engineers behind infrastructural growth in the UK. This includes property developers, who must be incentivised to develop property to add to the nation's housing stock. LendInvest is an enabling organisation for property developers and is well-placed to partner with government to shape best practice in upskilling SME developers
Capacity in the 'new sources' sector
In order to build capacity in the new sources sector, the Government must address a trio of access challenges for SME developers. Access to finance, land and skills currently constrains the source of supply offered by small scale developers. To combat this, the Government should take action in the following areas:
Improving access to land
The Government should take action to ensure that land is not unnecessarily banked and that larger developers who do not develop land in their stock sell it on to SMEs who will develop the land swiftly.

Prioritise SMEs over major housebuilders in bids to develop land released from public ownership.
Improving access to finance
The Government should explore state-backed funding schemes to provide businesses like ours with more capital to lend to SMEs.

Put SME property development at the heart of the industrial strategy. Commit to and act upon the funding understood by industry to have been earmarked by government for SME development projects.

Build on the Government's support for alternative finance as a route for SME growth by promoting cross-fertilisation between small scale developers and alternative finance companies.

Local authorities should explore partnerships with alternative lenders to invest their capital in property loans, passing on money to developers to buy land available for sale.
Improving access to skills
The Government should support industry initiatives to develop skills for property developers.

The Industrial Strategy should go further in incentivising development activity to position property development as an attractive entrepreneurial opportunity.

Government at all levels must work with SME developers to make it easy to plan and develop property.
What one thing could national government do to make the most difference?
It is LendInvest's conviction that the key to better housebuilding by property development SMEs lies in improving a trio of access points: to land, finance and skills. The Government must address these aspects in totality, and with equal focus, to increase productivity in the sector.
This submission has been prepared by John Gusman, LendInvest
Contact: [email protected] | 0203 846 6805