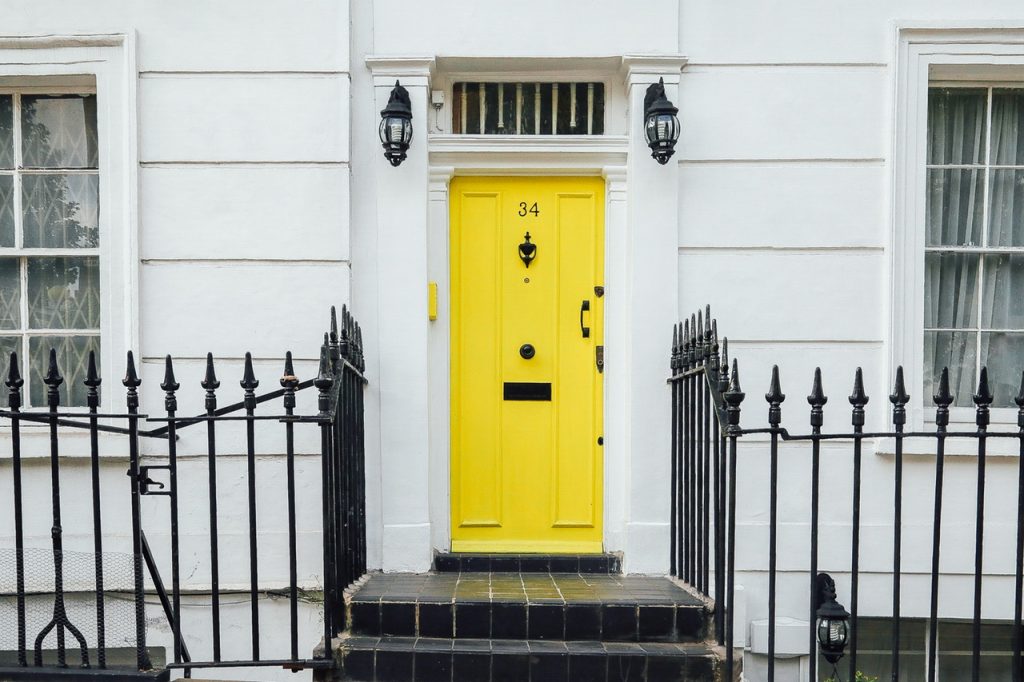 September 13, 2016
Our response to the CLG Committee inquiry into capacity in the homebuilding industry
This is our official response to the review by the Communities and Local Government Committee into capacity in the homebuilding industry. We welcome consideration of the capacity of the sector by the Communities and Local Government Committee. At the same time we encourage the Committee to work with a range of industry participants to identify opportunities to build more homes in the UK.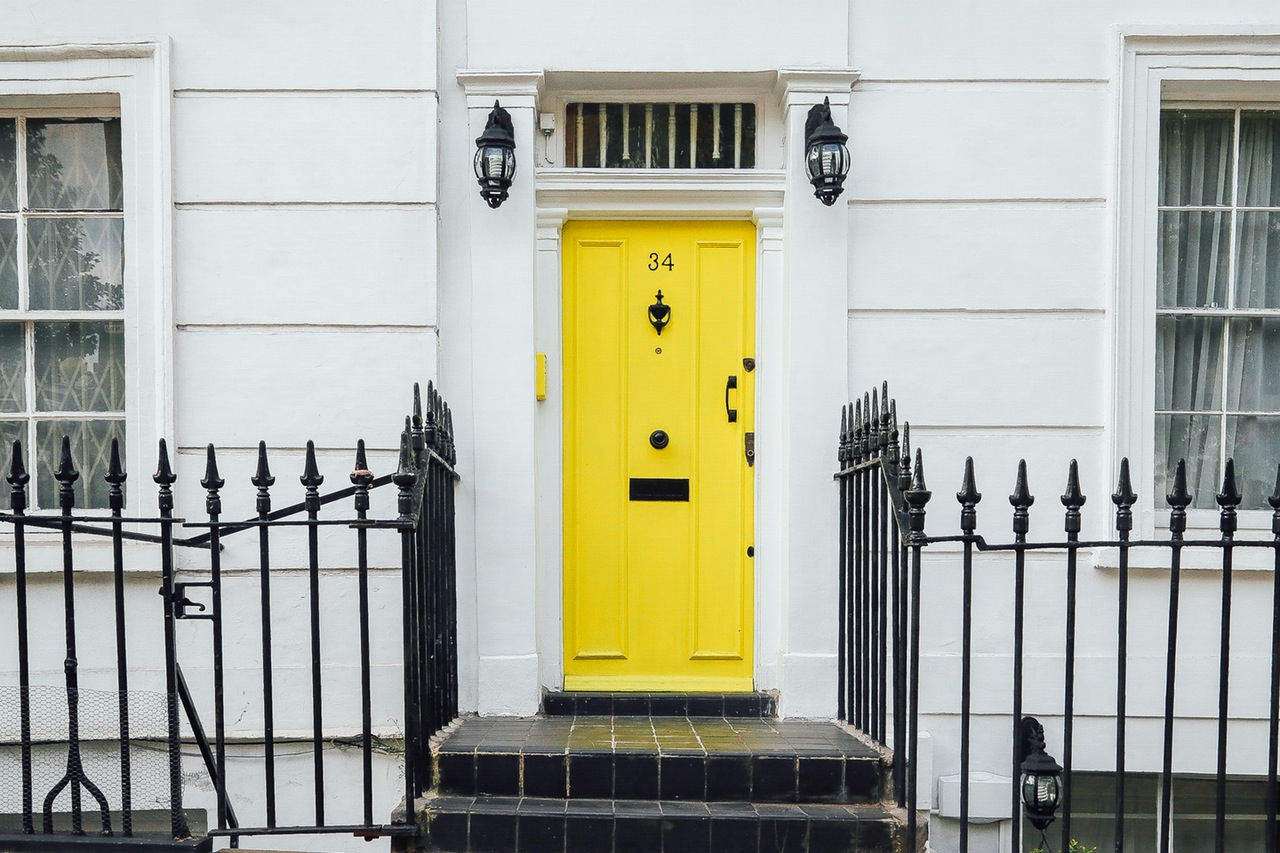 1. Our role in the property market
LendInvest is the UK's largest online mortgage lender, making bridging and development loans to small-scale house-builders and investors. As one of the country's leading FinTech companies, we specialise in building technology that makes it easier and faster for creditworthy borrowers to access mortgage finance, and gives more people the opportunity to invest in property finance.
LendInvest has lent over £740 million since 2008 to property entrepreneurs.

Our borrowers have bought, built and renovated over 2,500 properties in more than 120 UK cities and towns.
As the country has recovered from the prolonged financial crash, we have actively supported property SMEs to access the land, finance and the skills necessary to put more homes on Britain's streets. The LendInvest Property Development Academy is one example of initiatives we have taken to stimulate small-scale housebuilding beyond the supply of finance.
We believe the SME housebuilder can be the engine behind growth in Britain, chiefly in building and developing residential property. As such, this response to the review by the Communities and Local Government Committee into capacity in the homebuilding industry focuses on the role of property development SMEs in meeting the demand for new homes. Our response seeks to underline their capacity to contribute to putting more homes on UK streets, while highlighting the obstacles and challenges that should be alleviated by the Government to achieve the best results.
2. A snapshot of the current market for property development SMEs
It is no coincidence that Britain's most productive housebuilding period also saw the highest numbers of SME developers in operation. Back in 1988, the number of small builders (defined as those building 100 units or fewer) stood at 12,200 in the UK. That had fallen to 5,700 by 2006, and then just 2,400 by 2014. This 80% slump has been to the detriment of both the industry and the nation at large.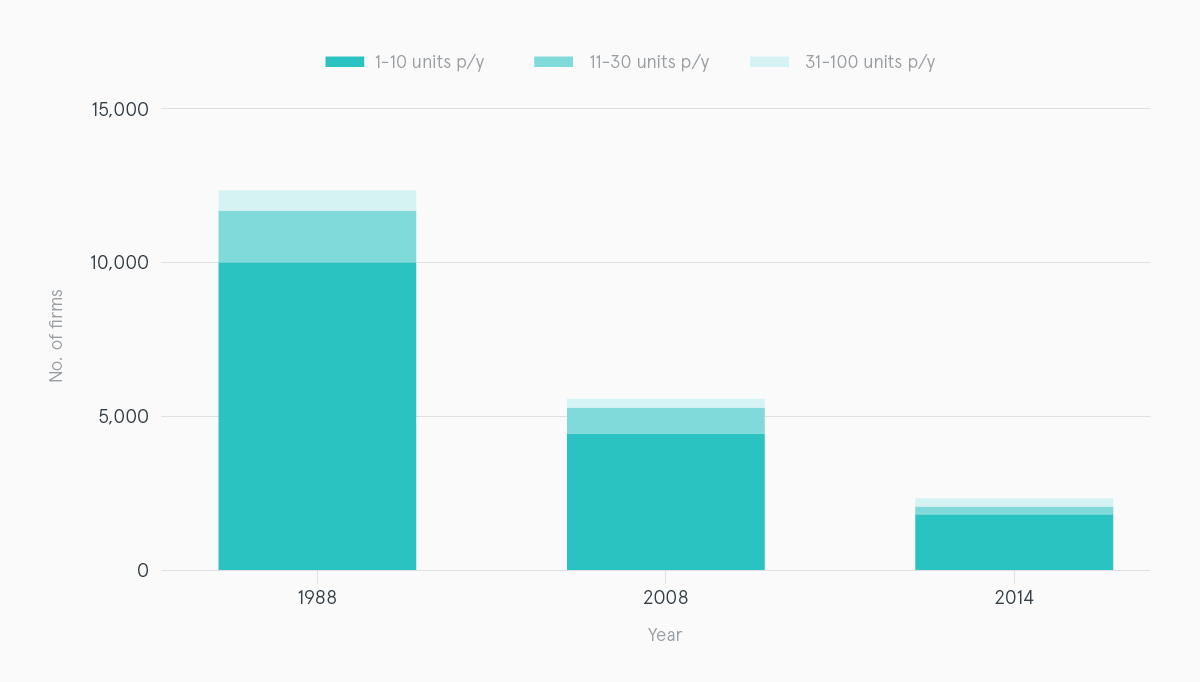 [Number of firms registering low volumes of housebuilding, 1988 to 2014]
The housebuilding industry has been through a tumultuous time. While there have been modest improvements in housebuilding statistics quarter on quarter this year, completions remain down 2% year on year. At this rate, the Government's target of one million homes by 2020 will not be reached.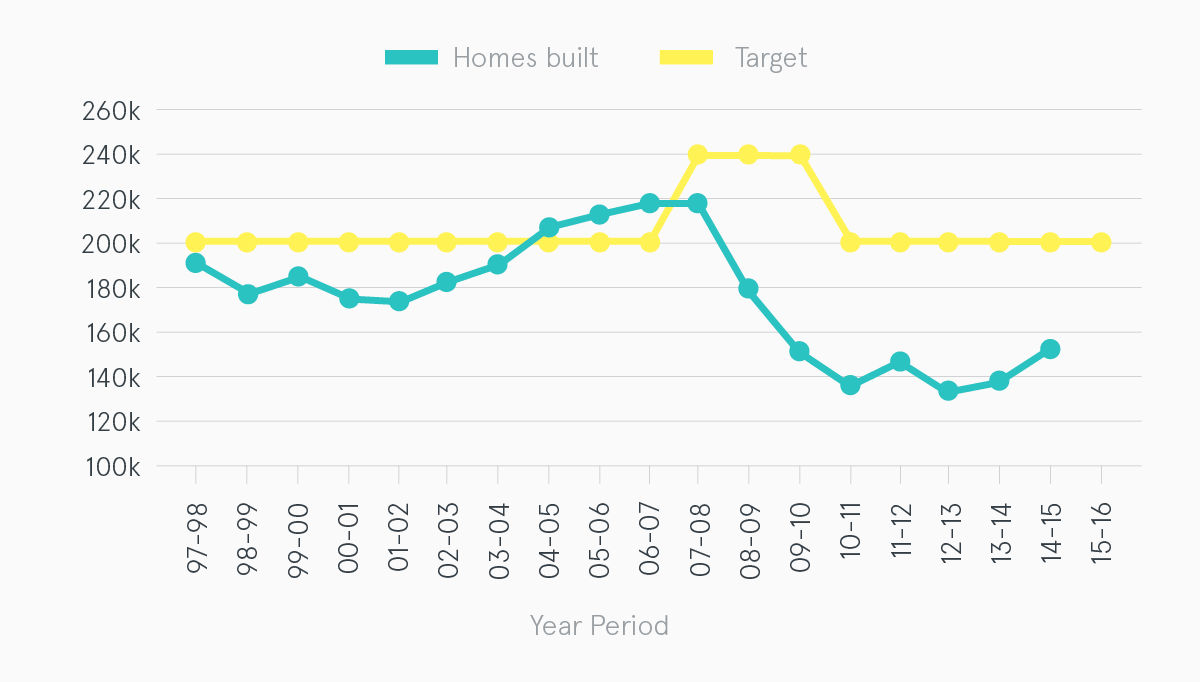 [The failure to hit government housebuilding targets]
Increasing housing supply is a complex problem which will require a coordinated approach by government and industry to solve. Indeed, the House of Lords Select Committee noted that "to meet demand and have a moderating effect on house prices, at least 300,000 homes a year need to be built for the foreseeable future".
The timing for public intervention could not be more crucial. In the wake of the UK's referendum on European Union membership, the UK housing market is set for increased vulnerability. Home ownership is at a 30 year low in a market where real estate is still considered one of the safest investment classes.
The British Social Attitude Survey 2014 found that 56% of those questioned supported new house building in their area; up by 28 percentage points since 2010. The appetite for the industry to grow has never been better.
The Government has a real opportunity to reinvigorate the market by putting homebuilding front and centre of its industrial policy. It is not enough, however, to set ambitious housebuilding targets without addressing the challenges in the sector that are preventing developers from delivering the targets that the Government aspires to achieve. Instead, measures should be taken to address the shortages in land, opportunities for finance and the lack of skills in the sector to truly get Britain building.
3. Addressing key challenges for property development SMEs
In our view the key to better housebuilding by property development SMEs lies in improving a trio of access points: to land, finance and skills.
3.1 Access to land
It is commonly recognised now that relying on the larger housebuilders to increase housing supply has proven ineffective. The Guardian notes that 615,152 housing plots have been "land banked" by Britain's nine largest housebuilders, meaning they sit on large amounts of suitable building land and develop it slowly, subsequently keeping prices high.
This inactivity on perfectly adequate land has one overriding consequence: there are fewer homes being started and completed than the number of permissions granted. While we understand that construction lag times often require a reasonable forward supply of land, government intervention in land banking would open up land for development by SMEs who do not have the resource to procure and bank land in the same way.
Public intervention should also be made into the opaque land market, reducing the frequency at which land traders purchase land, promote it through the planning system and sell it on for inflated prices to land developers. This practice drives up higher development costs for the eventual developer, who must ultimately pass that cost on to the property buyer through inflated sale prices. Developers, policymakers and the eventual homebuyer would benefit greatly from the opening up of this market to scrutiny by requiring publication of data on land ownership, prices and option agreements.
Small scale developers struggle most to access land, with 14% identifying availability of land at a suitable price as a "major challenge". The Government is taking positive steps to address this, by releasing public land, but has got off to what the National Audit Office has called a "slow start". As activity accelerates, more SMEs must be at the front of the queue to develop this land, offering unique and competitive products and building their own reputations at the same time.
3.2 Access to finance
Banks and building societies were once the mainstay of housebuilding finance, but their share of the market has shrunk by more than 20% since 2008. For many, capital adequacy requirements mean that development finance is just too expensive to lend. For others, there is little appetite to lend capital in return for minimal margins. Insurance companies initially stepped in after the credit crisis to fill a funding gap and now lend 10% of housebuilding debt. However their criteria is stringent and they generally reserve allocations for major developments.
In this climate, small-scale SME housebuilders are consistently the least well served by lenders. Less burdened by capital constraints and lending costs of our traditional counterparts, it is alternative, "non-bank" lenders, like LendInvest, that are increasingly plugging the funding gap at the smaller end of the development market by building a suite of loan products to serve SMEs' needs.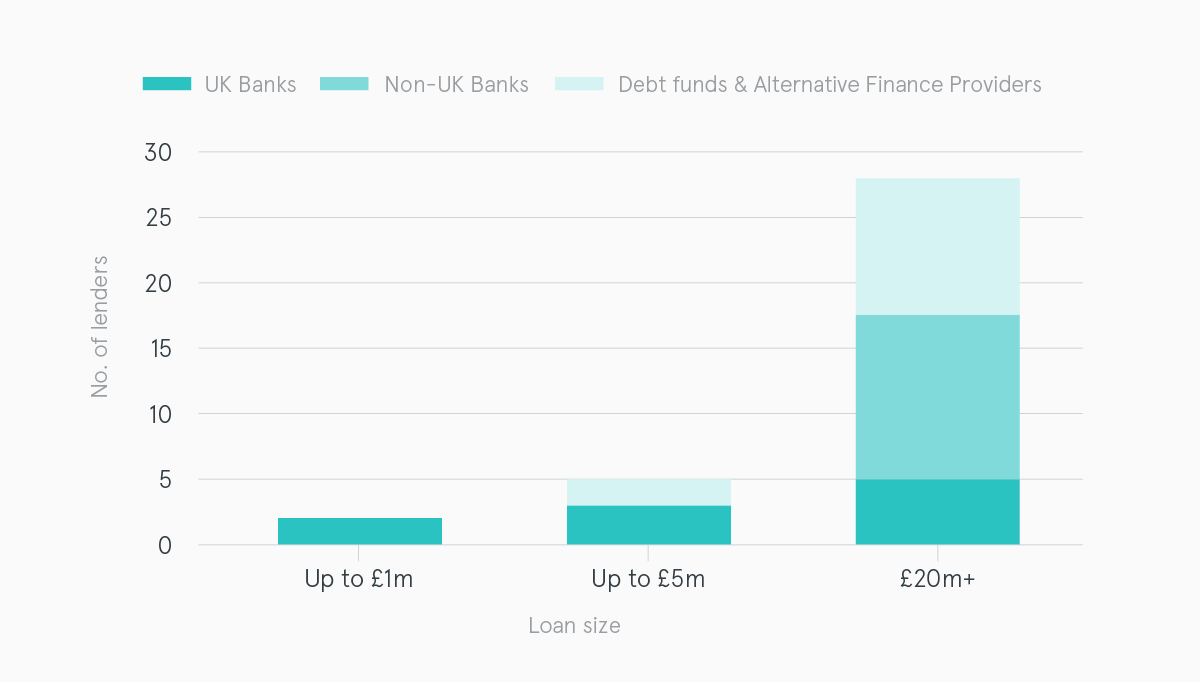 [The number of lenders prepared to lend at different loan sizes]
By the end of 2014, the alternative lending market accounted for 14% of all development loans, and current market conditions indicate that this proportion is growing. In order to maintain a competitive, fair and open market, there should be greater government support for alternative finance sources, such as online mortgage lenders, and the role they play to underpin the work of SME developers.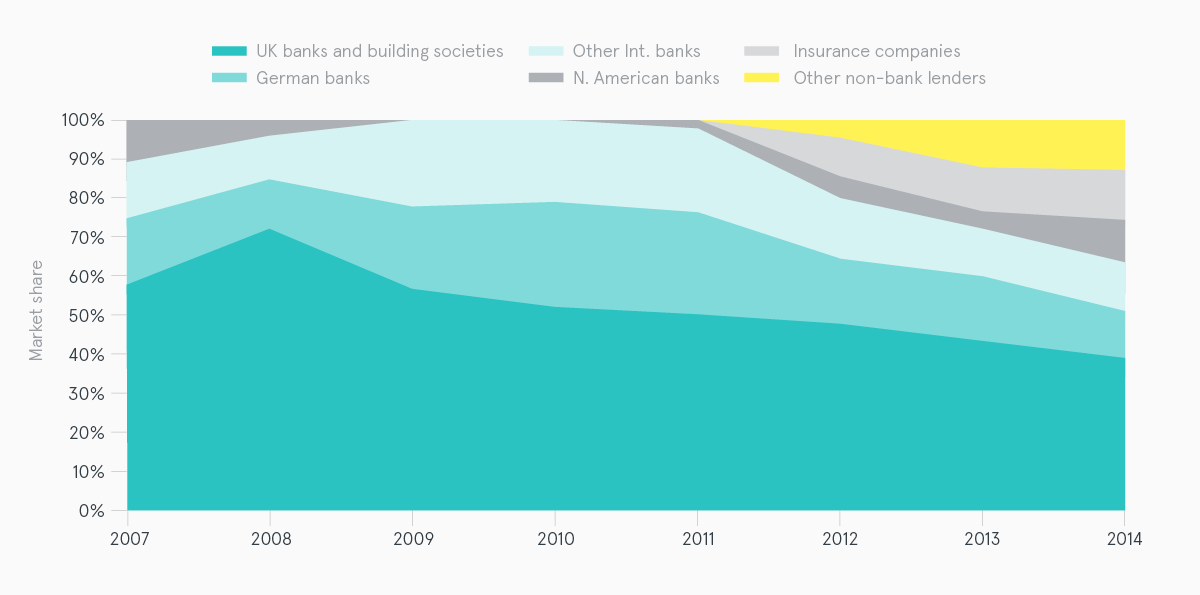 [Market share of annual loan originations 1999 to 2014]
Government funding for housebuilding projects, such as the mooted fund to be administered by the Homes and Communities Agency, should focus on supporting SME developers.
Non-bank lenders, like LendInvest, are increasingly well established and have the suitable expertise to determine which SME property developers are likely to be good prospects. However, in the current market it can be challenging for alternative lenders to source additional lending capital. The Government is well placed to mandate state-backed funding schemes that enable lenders to offer more capital to SMEs. LendInvest sees this as an essential area for exploration by the Government in the development of its industrial policy.
3.3 Access to skills
Access to land to develop and finance to fund getting tools in the ground can be hindered by the lack of know-how to complete projects. It is recognised already that there is a skills shortage in construction, but addressing this does not fully solve the skills gap. Many property developers, especially those small scale developers, lack the knowledge and experience to make a success of their development projects.
Industry initiatives, such as the LendInvest Property Development Academy, present an innovative opportunity to increase housing supply by arming property entrepreneurs with the tools to build development projects from the ground up. In order to make a success of this, government and industry must work together to help these developers from identifying development opportunities at the beginning, through to navigating planning processes and completing on projects.
The Government's industrial strategy must make provisions for upskilling the engineers behind infrastructural growth in the UK. This includes property developers, who must be incentivised to develop property to add to the nation's housing stock.
4. Our recommendations
Improving access to land
The Government should take action to ensure that land is not unnecessarily banked and that larger developers who do not develop land in their stock sell it on to SMEs who will develop the land swiftly.

Place increased scrutiny on the land market, including requiring the publication of data on land pricing, option agreements and ownership.

Prioritise SMEs over major housebuilders in bids to develop land released from public ownership.
Improving access to finance
The Government should explore state-backed funding schemes to provide businesses like ours with more capital to lend to SMEs.

Put SME property development at the heart of the industrial strategy. Commit to and act upon the funding understood by industry to have been earmarked by government for SME development projects.

Build on the Government's support for alternative finance as a route for SME growth by promoting cross-fertilisation between small scale developers and alternative finance companies.
Improving access to skills
The Government should support industry initiatives to develop skills for property developers.

The Industrial Strategy should go further in incentivising development activity to position property development as an attractive entrepreneurial opportunity.

Government at all levels must work with SME developers to make it easy to plan and develop property.
You can download a pdf version of this response
here.