May 1, 2018
Putting Finance First: FMB supports specialist lenders to meet the challenges faced by SME housebuilders
We need to be building many more new homes than we currently are in this country.
But to achieve this will require a housebuilding market that is significantly more dynamic and more diverse than the one we currently have. Crucially, this means that our small and medium-sized (SME) builders need the ability to more easily enter the market and increase their output of new homes.
Role of The Federation of Master Builders
The FMB has played a leading role in recent years in highlighting some of the key barriers to growth these firms face and how we can help to tackle these. One of the most consistent restrictions over the last decade has been the serious difficulties which many SME builders face in accessing development finance.
As our most recent report highlights, the FMB's 2017 House Builders Survey found over half of all SME house builders still report that access to finance is one of the major barriers to their ability to build more homes.
Specialist lenders are driving appetite to build
Although our surveys have shown some improvement in this situation over recent years, qualitative evidence strongly suggests that this may have primarily been driven by increased appetite and presence in the market by smaller challenger banks and specialist non-bank lenders, like LendInvest.
So, lenders like LendInvest are in themselves a part of the answer. The FMB wants to see a flourishing market for smaller scale development finance, with strong participation by a wide range of private providers, and public sector financing where this is necessary to support, and plug gaps in, the private sector market.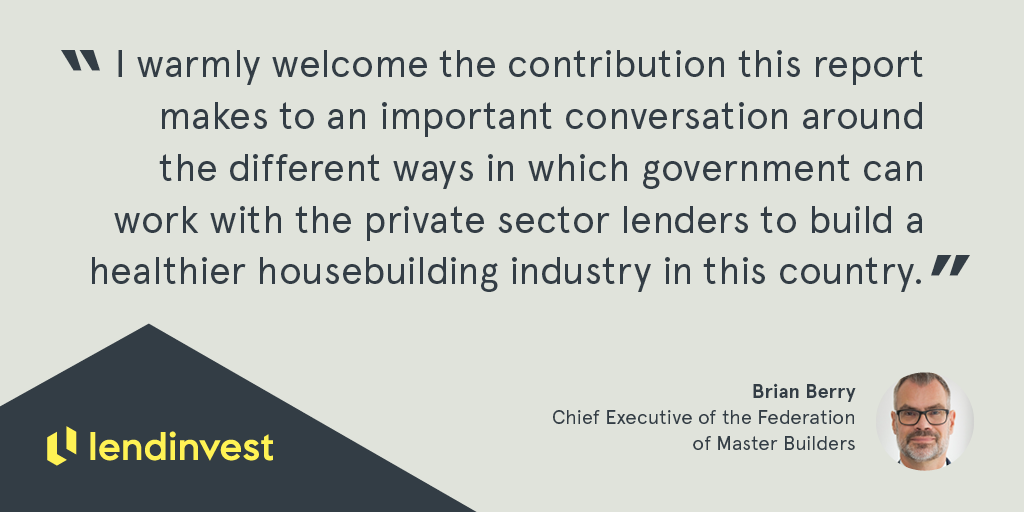 Excerpt from Brian Berry, Chief Executive of the Federation of Master Builders commentary in 'Putting Finance First: The alternative route to funding Britain's SME housebuilders'.
Click here to read the full report.