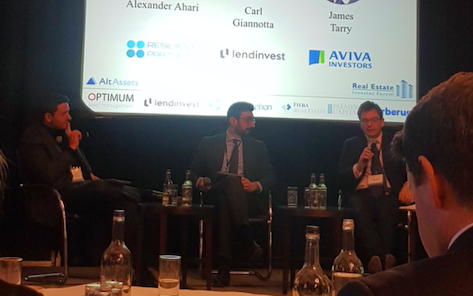 December 12, 2019
Looking forward: themes from the AltAssets Real Estate Investor Forum
With 2020 just around the corner, it's time for the industry to begin looking forward and establish what could be next for investors as we move into the new year.
Last week LendInvest attended the AltAssets Real Estate Investor Forum, a space for investors in the sector, fund managers and investment consultants to connect.
Our Director of Fundraising and Investor Relations, Carl Giannotta, took part in two key discussions on the day, speaking alongside a panel of experts from the likes of CBRE, bFinance and Aviva Investors.
The panels focussed on Real Estate market trends, issues for investors that are active in the market, and took a view on how the Real Estate space will evolve over the next five years.
We have broken down a couple of the core themes from the day below.
Will there be a shift away from traditional strategies in 2020?
It's been another year of prolonged uncertainty, with investors and borrowers alike preferring to play it safe, rather than adopt bold, new strategies. But will we see a move away from traditional investment strategies and regional preferences as the political landscape clears next year? This would depend on what is regarded as traditional.
Despite the meteoric rise of the private rented sector, many investors still see residential sectors as alternative. We can therefore expect to see more investors expand into residential as we get more clarity on the economic landscape.
When considering a real estate sector to invest in, the panel agreed diversification is certainly important, with Carl also highlighting the potential still to be unlocked in the UK residential market.
Real estate debt: supporting portfolio resilience?
Limited prospects for capital growth in developed real estate markets coupled with the fragility of global growth has led to many investors allocating to real estate debt recently in a bid to build resilience into their portfolios.
'Against the backdrop of $17.5 trillion outstanding of negative-yielding debt, investors are increasingly turning to private markets alternatives to fill the void. Real estate debt, in particular, looks very appealing right now as a relative value play. You can achieve strong outperformance versus more liquid credit strategies, whilst it affords greater downside protection than many private debt alternatives, such as mid-market direct lending.'
However, Carl went on to say that the asset class is not a cure-all, and selecting the right partner with the ability not only to originate and underwrite deal-flow effectively, but also to roll their sleeves up and recover assets in tougher market conditions, is crucial.
The rising importance of ESG
A prevailing topic on the day, it's clear that the importance of ESG has evolved well beyond a box-ticking exercise and is here to stay. Investors increasingly expect ESG principles to be integrated into the investment process, with fund managers expected to generate a positive impact beyond financial return.
Some investors are now going so far to say that a fund would not get into their top five choices if ESG is not central to their strategy. We can only see this theme ramping up further in the next couple of years.