August 21, 2019
LondonCSS August meetup – our round-up
It was our great pleasure to host the August LondonCSS meetup – an educational and highly enjoyable evening of presentations and lively discussion, with plenty of food and drink to fuel debate. 

LondonCSS meetups
The meetup, originally started by Stu Robson and continued by Igor Czerwinski, has attracted some of the capital's most respected developers and coders. Many have gone on to become world-class speakers and decorated experts, contributing to highly challenging and successful codebases, such us gov.uk, the Financial Times, Samsung, the BBC, and Ticketmaster.
Open to anyone with an interest in coding, the meetup offers a safe and exciting space to question assumptions, discuss problems, and challenge the room. 
August's event was no different. Ana and Oliver ensured that everyone was catered for – from those looking for healthier options than the classic pizza and beer offering, to people who require assistive technology (such as live speech-to-text services) to participate. 
The talks 
Michelle Barker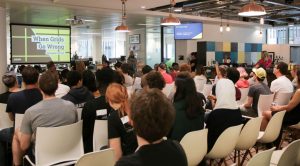 We first heard from Michelle Barker, front-end developer at Ordoo, Mozilla Tech Speaker and author of https://css-irl.info/, who demoed Firefox's developer tools and took us on a journey through CSS Grid. 
An incredibly powerful, and rather complex, tool, it offers front-end developers an efficient way of composing their layouts, with exceptional flexibility. But the flipside of that level of freedom is increased potential for unexpected outcomes, and so Michelle's talk also detailed a range of potential gotchas. 
Michelle's slides can be found here. 
Stu Robson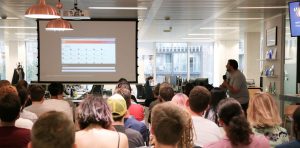 Next up was Stu Robson, the original founder of the LondonCSS meetups. Stu has always been an invaluable community member, researching, writing and speaking, keen to share his expertise on his design system work.
Stu's talk focused on design tokens and how to tool around them. He explored how dozens, if not hundreds, of small variables can be managed in a sane and predictable way. It was inspiring for our design and tech team members – food for thought on the potential to better communicate and collaborate, and increase velocity, within cross-disciplinary teams.
Stu's slides are here.
Heydon Pickering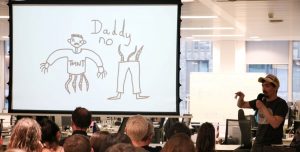 The inimitable Heydon Pickering gave the last of the evening's presentations. A renowned speaker and author, Heydon is known for his contributions to Smashing Magazine and  tireless efforts to make the web better and more accessible for everyone.  His work includes collaboration with The Paciello Group and projects like Inclusive Components.
In a talk that resonated strongly with the whole audience, not just the coders in the room, he explored the idea of designing without colour – black and white only. 
This might sound radical, but, as Heydon explained, processing colour can actually increase cognitive load – for no immediate benefit. It's not just that colour choice can hijack early meetings to discuss design drafts (though it's a rare designer or dev who has not experienced this!) More importantly, colour can actually have a negative impact on end-users, for instance when viewing designs in harsh lighting conditions or for people with visual impairments.
You can see his slides here.
Heydon's talk was warm and funny, but his message was powerful: don't design and build for yourself – understand your audience and their needs and cater to them. It was a fitting close to an evening that centred inclusivity and accessibility for a community working hard to knock down barriers to entry.

The evening was a joyful celebration of knowledge and collaboration. The excellent talks inspired plenty of discussion between attendees, and the atmosphere was one of learning and camaraderie. We'd like to say a big thank you to Ana and Oliver, along with all who attended – it was an absolute pleasure to be involved.
We're always looking to add talented new developers, engineers, and code experts to our team – to learn more about our engineering department and see any open positions, meet the team here.