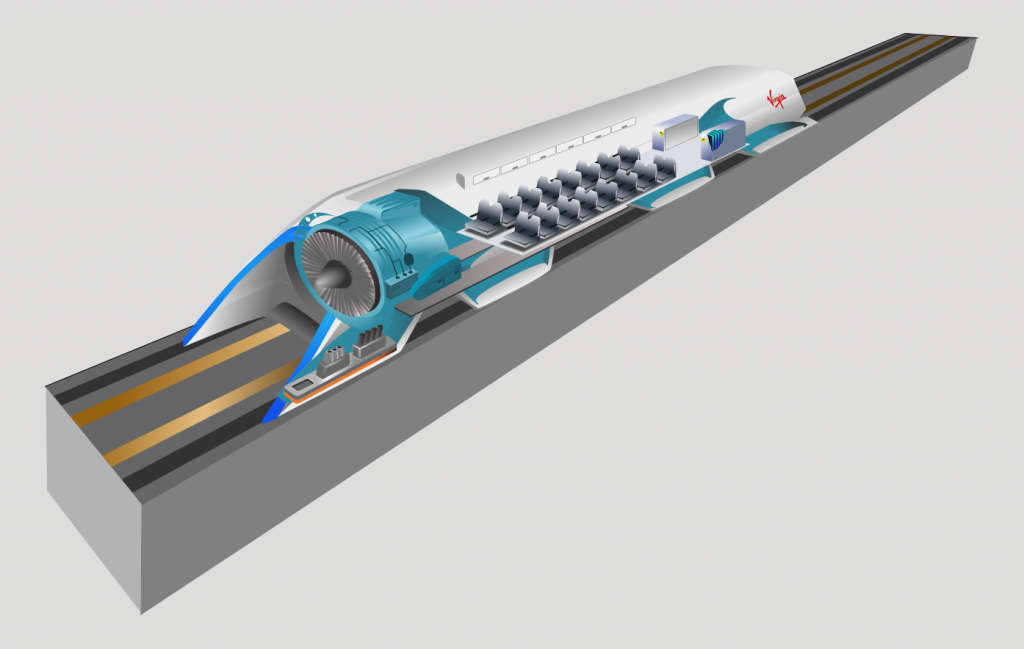 October 19, 2016
Why Elon Musk's Hyperloop would be huge for PropTech
In times of uncertainty policymakers and entrepreneurs seem to spring to action, creating solutions to the tough social and infrastructural challenges of the day. Take Alan Turing, in the bleak conditions of wartime Britain he developed the technology later credited as the birth of modern computing. Fast forward and the dot com boom reinvigorated stagnant economies worldwide, launching an unforeseen market and transforming established industries.
Speed into the future now, and what do you see? If you follow the rip-roaring ride of Elon Musk's entrepreneurial ventures, you might see Hyperloop: a vacuum-tube transportation system that would mean you could journey from London to Manchester in as little as 18 minutes. Musk, co-founder of PayPal and current CEO of electric carmaker Tesla and the rocket-building company SpaceX, outlined his idea in a
58-page white paper in August 2013
. He described Hyperloop as a "cross between a Concorde, a railgun and air hockey table" and said it could be the "fifth mode" of transportation—after planes, trains, ships, and cars. I was fascinated to read that plans and talks to date indicate that it could, with a small flight of imagination, be
built in the UK in the coming years.
The politics of Hyperloop
This would be an invention, much like Turing's that would face the challenges of our time head on. Consider it in the context of today's policy landscape. The UK Government in its recent party conference outlined its focus on industrial policy, encouraging innovation in enterprise and, crucially, investing heavily in infrastructure: transport, housing and energy. Housing Minister Gavin Barwell also described his ambition to refocus housing development away from the heavily concentrated activity in the southeast and into the regions.
At the same time The Department for Transport and the Department for Business, Energy and Industrial Strategy have joined forces to explore the unique opportunity to create a better-connected network of cities. Innovators play an essential role in driving economies forward, inviting businesses and consumers along for the ride. And these policy ambitions rest heavily on their success. So it's not a push to imagine that the terrain for implementing a revolutionary vision could be more accommodating than you think.
Just imagine how Hyperloop would revolutionise housing and the idea of 'better connected cities'
Shifting the supply of housing delivery to the regions requires a shift in demand. With investment in transport infrastructure, and Hyperloop-type innovation you can see it all playing out. . .
Imagine sitting in a pod or capsule travelling nearly 800 miles per hour inside tubes elevated by pylons 17 to 20 feet above ground. Slight fear factor aside, easy mobility would create new commuter belts and open up new business links across the country. Businesses unwilling to pay London prices could feasibly base themselves in Manchester, Liverpool or Leeds and do business with London. Commuting from Sheffield to central London could be quicker than catching the Northern Line! Commute might even cease to be a dirty word. Property in areas connected by Hyperloop would become increasingly lucrative development opportunities, as has been demonstrated by the HS2 and Crossrail projects. And the overcrowded property market in the southeast would be complemented by new opportunities to build, develop and live across the UK, with better and more convenient links between the UK's great cities. In fact Hyperloop would have such a monumental impact on property and housing you could call it
PropTech.
But just how realistic is a future UK connected by Hyperloop?
Current infrastructure projects, such as HS2, uncover the numerous challenges that policymakers and innovators must overcome in implementing ventures of this scale. Navigating the regulatory environment, winning public support and overcoming planning challenges takes time, and this is set to be exacerbated by the uncertainty caused by the UK's vote to leave the European Union.
History tells us, however, that in these conditions innovation flourishes. The UK Government has signalled interest in the Hyperloop opportunity. It already has a forward-looking, long-term vision for British infrastructure, connected cities and support for the burgeoning tech industry. Whilst the intricacies of implementation won't disappear overnight, it's exciting to see innovations and creative thinking break the bounds of the imaginable and the early manifestations of a political terrain set to rally around bold visions.
Posted by null null