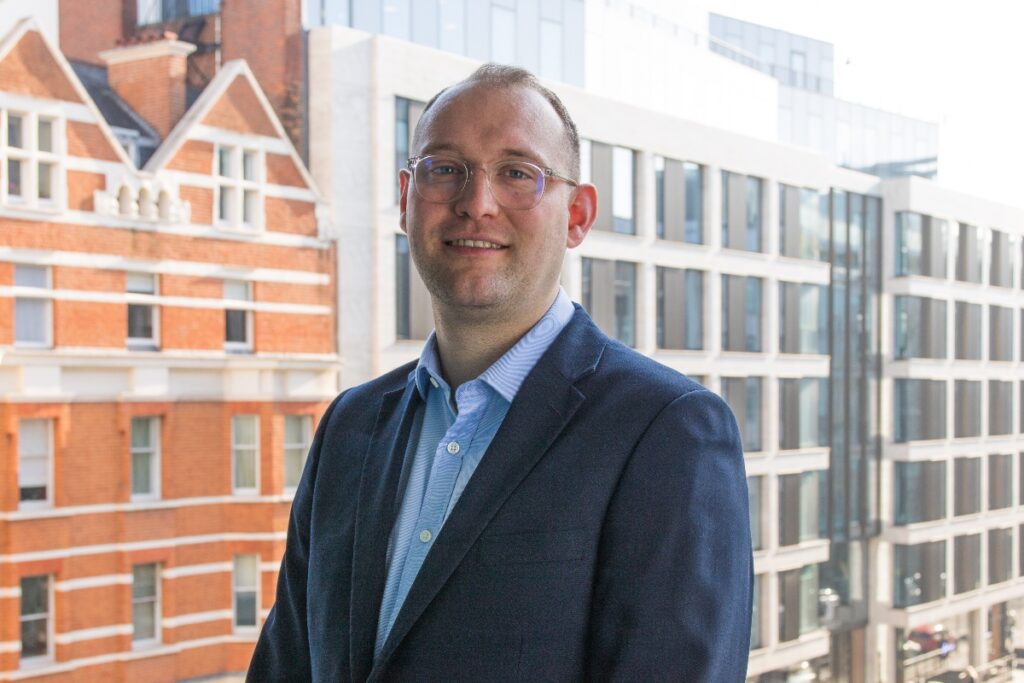 December 24, 2020
Adapting to new challenges: reviewing 2020 with Associate Director for Fundraising and Investor Relations, George Emery
To read more of our team's 2020 reflections, visit our blog.
For team members used to doing their role by flying around the world, 2020 has posed a unique challenge.
George Emery, Associate Director for Fundraising and Investor Relations, looks back on how he and his team members adapted to the challenges of this year to meet their clients' needs.
It's been a particularly strange year for all of us, but what has been a positive side of 2020 for you?
Strangely enough, 2020 started on a very positive note with productive roadshows with investors which were considering and proactively increasing their exposure to UK-focussed strategies off the back of positive sentiment concerning the decisive general election win in late 2019. I spent large parts of January and February on planes, in hotels and conducting face to face meetings, which was the exact opposite of what I have spent the rest of the year doing!
2020 has been a challenging year for most, both professionally and personally, but it has been one which I have learned a great deal. We have really strengthened the relationships with our existing investors as well as forging some strong new ones across the globe, even if this was done over video calls rather than face to face. It's been hugely important that our investors trust us to accurately communicate what's happening on the ground, almost as it happens.
Most importantly, we've been able to protect their capital from wider market volatility as well as proving the robustness of the downside protection in the strategy during a period of stress. This has been rewarding considering what has happened with the returns of asset classes and we expect to post positive returns for the year.*
How have you and your team adapted to the volatile market this year?
The residential market has been very resilient this year, not many would have predicted how stable prices and transactions have been after the lockdown ended. We've also seen some behavioural shifts from buyers, with those who have spent long periods of time at home this year wanting to move to homes with outside space and more room to accommodate home offices etc. Different types of real estate have been impacted in very different ways this year and fortunately residential has been sheltered from the downside.
Homeowners and property investors (particularly first-time buyers), have continued to be supported by the government in a number of ways and the government has been clear that increasing home ownership is a key metric moving forward, which is an important driver for the underlying housing market and the investment strategy.
What improvements did you make in your team throughout this year?
We are a small team in the Fundraising & IR function and have all worked together for a long time, which has made the transition to working from home much easier. I'm the 'newest' employee at LendInvest in the team and have been here for just under 5 years.
As you can imagine, a normal day for us (pre-COVID) would have meant face-to-face meetings either in our office or in other parts of the world on roadshows. Obviously we've had to make quite drastic changes to how we 'meet' with clients this year which has been fairly seamless, all things considered.
We've had a very international investor base for years now, and already created a great process for investors to conduct due diligence on us, even remotely over video calls and through VDRs etc, but normally at some point through the process there would have been an on-site meeting, which we've had to replace and get clients comfortable with.
Nine months in, how has the adjustment to remote working been for you?
Working from home just feels normal now, but in the beginning it was difficult to acclimatise to in the midst of the pandemic when it seemed the whole world was falling apart. We've always had the capability to work from home effectively, but I am a social person and would much rather be in the office and around my colleagues, even if it means I need to spend part of my day on public transport to get there!
To read more of our team's 2020 reflections, visit our blog.
What is a success from 2020 you want to share?
As a member of the ESG committee, we've worked hard on a number of initiatives including quantifying the impact that our lending has in the real economy. We've made great progress this year and the findings have been better than I had expected. It's incredibly motivating to know that, in addition to our returns being robust during this year, there are also tangible benefits to wider society created through our lending.
Whether this is creating jobs, financing hundreds of millions of pounds worth of property that provides affordable rents in our BTL programme, upgrading of property to be more environmentally friendly or the sheer number of homes built from our development lending.
This is obviously of importance to our investor base, but it is satisfying to know the impact it is having from a personal perspective.
*Capital at risk – The value of investments (and income) may fall as well as rise and you may get back less than invested. Past performance is not a reliable indicator of future results. Learn more about our approach to managing risk.
Income and capital repayments are not guaranteed. Investors cannot liquidate investments, but the underlying borrowers may repay early, late or not at all. Your capital is at risk. Past performance is not a reliable indicator of future results.
The information we provide can help you make your own informed decisions, but it is not investment advice or a personal recommendation. You should seek independent financial advice if you are not sure a product or investment is right for you, or you do not fully understand the risks.
Issued by LendInvest Funds Management Limited (the Investment Advisor) on behalf of the LendInvest S.C.A SICAV-SIF S.A. – The LendInvest Real Estate Opportunity Fund which is authorised by the Commission de Surveillance du Secteur Financier.