November 24, 2015
8 Problems PropTech Has Set Out to Solve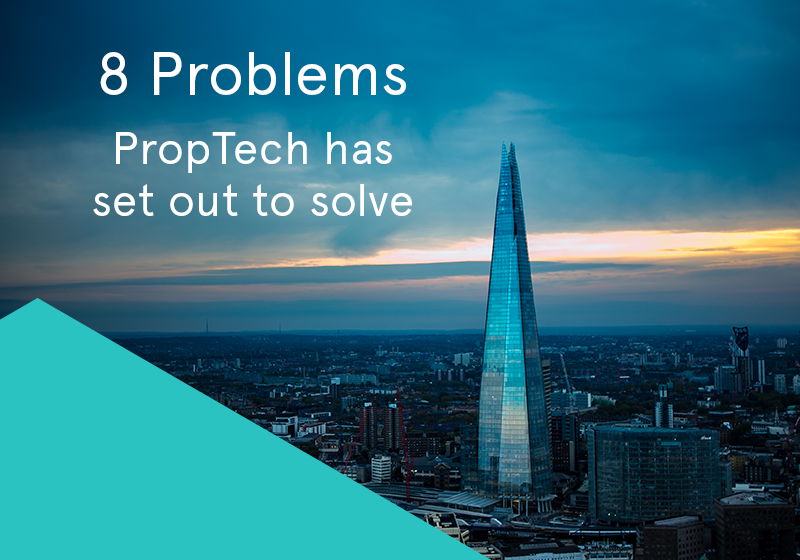 PropTech (property + technology) is a new and emerging sector that is using technology to transform every aspect of the property industry – from how buildings are designed, built and marketed to how we search for, buy and manage our homes. In May 2015 we held a round-table with a handful of PropTech startups, plucked from the dozens of businesses emerging throughout London and the rest of the UK, to gather their thoughts on the future of the sector. These are just some of the things they had to say:
"Tech eliminates inefficiencies and automates arduous, long processes, and you'll find that a lot in property" – Tushar Argawal, co-founder of Hubble
"PropTech is shaping the future of the property market by giving people the ability to do something today, that they couldn't do yesterday." – Nicholas Russell, CEO and Founder of We Are Pop Up
"I think in London we have a great PropTech scene and I think we should be doing everything we can to support it." – Freddie Forde, Head of Revenue, MoveBubble
But with a lack of presence at Dublin's Web Summit, we think that PropTech needs far more support than it is currently getting. These are really just the early days of how technology will begin to change the property market and we're all trying to tackle big challenges, so it's important to come together, brainstorm and keep the PropTech ecosystem alive.
Here are eight problems PropTech has set out to solve:
1. Who owes what?
When it comes to household finances, figuring out who owes who can be a real headache. PropTech startup, Splittable is on a mission to take away the stress of who owes what by offering an app to help managed finance in shared households. Splittable helps you to split bills, rent and everyday expenses when sharing accommodation. You can easily keep track of everything you and your housemates are spending money on, from utility bills and rent to grocery purchases and beer. Meanwhile BillHub lets you mix and match services from a selection of the best-priced providers. Instead of signing multiple contracts, you just sign one with BillHub, then split costs equally with other housemates, or pay it all from one person.
2. Flat hunt from your sofa
From January-November 2015 there were a total of 427k rental offers on Zoopla, and PropTech is making it even easier to find the right flat. If you're hunting for a flatshare, sites like SpareRoom, Easyroommate and Kangaroom make it possible to connect with those who have rooms to rent online. Or if you're looking to find a flat to rent in London, Movebubble's property search assistants will search all over the city to find just what you are looking for. Simply tell them what time you're available to view the property and they'll set up the viewings.
3. Sell your home without the hassle
No longer is it necessary to walk into an estate agent's office – now homeowners can sell their houses without ever having to lift a finger. Online estate agents such as eMoov and House Simple enable you to save hundreds of pounds in fees, and they'll do most of the legwork for you. If you're not sure which estate agent to use, raterAgent lets you find the best rated estate agents in your area by reading trusted reviews from real customers.
4. Work from anywhere
The way we acquire and hold onto office space is changing, with lots of businesses choosing to operate out of shared workspaces. This can be largely attributed to changes in the way we work – laptops enable us to work from anywhere, while cash strapped startups need access to affordable office spaces.  Operating in London, the Netherlands, Israel and the United States, WeWork transforms buildings into collaborative workspaces. By signing up to their membership scheme, you get on-demand access to co-sharing office spaces globally. Operating in London, Hubble enables you to find the perfect office space for your startup or small business. Simply enter the number of desks you require and hit search!
5. Can't buy a property? Own part of one.
Sites like Crowdlords, Property Moose and The House Crowd are all equity crowdfunding sites that pool investors together to buy properties. Investors become shareholders in a particular property and share the net profits. You can read more about the difference between property crowdfunding and secured lending in this article. 
6. Better management for landlords and tenants
Fixflo is a tenant repair reporting system that helps make repairs simple. It helps tenants to fix certain issues themselves, and helps landlords to manage repairs quickly and effectively. For property managers and landlords there's Arthur– a property management system that can help with communication to tenants, contractors, agents and owners.  
7. Disrupting the status quo
PropTech on the whole is an innovative sector that is set to disrupt the current property market. Even the world of commercial property management is being disrupted, with data analytics companies such as Shared Property Data (SPD) creating sophisticated search engines to help people find the exact commercial property they want. In short, PropTech is allowing us to do things in a better way, which is something that's worth championing and fighting for.
8. The mortgage – 'computer says no'
At LendInvest we're on a mission to reinvent the mortgage. Applying for a mortgage has traditionally been an offline process, taking an average of 3 months to get one here in the UK. We've brought everything online, taking this process down from 3 months to a matter of days. We're able to offer faster conveyancing, valuations and services, but with the same levels of control and risk management. Our borrowers often come to us when they have been let down by traditional banks, and we pride ourselves on transparency and open communication.
Don't forget to follow Lendinvest on Twitter for the latest PropTech news!